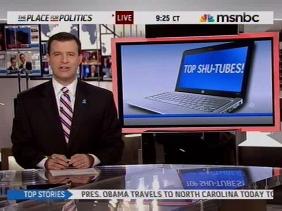 We published an email exchange Thursday night between MSNBC President Phil Griffin and a David Shuster fan about his anchor's indefinite suspension.
Mediaite spoke exclusively with Griffin today about the reasons behind the suspension, emailing with viewers and more.
"I said all along that this was about loyalty and looking out for this network and not our competition," Griffin told Mediaite, who said in an email Thursday afternoon (obtained by Mediaite today), "We don't pay David to help CNN figure out how to beat us."
"Really, what upset me about this whole thing was how unfair it was to people who were loyal to the company," he said. "That's at the heart of this thing, that's what makes it so difficult to get beyond."
Griffin said he had emailed with several viewers who reached out to him regarding Shuster, but "I don't think I will anymore." He told Mediaite, laughing, "I do like engaging our viewers, I don't like it when they immediately direct it to you."
We received the email correspondences by way of the Facebook group, "Punish David Shuster with his own show!" a fan group with 298 members and counting. Obviously, these viewers who have reached out to Griffin and the fans on Facebook are upset Shuster has been taken off MSNBC. "I am too," said Griffin. "I'd prefer we weren't in this situation."
As for whether Shuster returns to MSNBC during the remainder of his contract, Griffin said, "Dave and I have to work that out."
On one level, it's refreshing to see the President of a company engage with its customers at such a personal level. Obviously, it wasn't an easy decision to take a long-time employee who anchored 10+ hours a week off the air. Directly addressing it with fans is rare. With Shuster's future at MSNBC up in the air, the next question becomes where he goes next – although since he's under contract for the remainder of 2010, we may have to wait several months to get any answer.
—–
» Follow Steve Krakauer on Twitter
Have a tip we should know? tips@mediaite.com