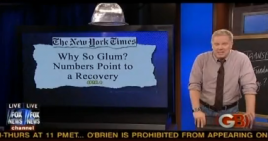 Even casual watchers of Glenn Beck will probably recall that back in November of last year, not long after his 9/12 extravaganza, Beck unveiled his 100 Year Plan. Or at least unveiled the fact that he had a 100 Year Plan, which would culminate in both book and an rally on August 28, 2010.
Well, The Plan is back. Beck is apparently spending the whole week discussing elements of it and today's show was focused on the economy, jobs, and fixing the deficit. As far as I could tell it was basically a rehashing of everything he's been saying for the past six months, and, truth be told, he lost me after the first ten minutes or so (Beck has sort of been off his game since the health care bill passed). Anyway, here's the part that caught my attention, particularly in light of today's Pulitzer announcement (the NYT won three): Beck apparently thinks it's just a matter of time till the Times is bought out by the government.
Beck's (latest) problem with the Times is their report from last week that, believe it or not, numbers are pointing to a economic recovery. "Really!" Says Beck.
Has the New York Times even looked around their own newsroom? It's practically empty. They just announced another 100 layoffs in the newsroom…two words New York Times: Government takeover.
Okay! First of all, the Times announced those (long-rumored) layoffs before Christmas. Secondly, they leased out that skyscraper a while back (not that it wasn't a bad decision to begin with). And thirdly, government takeover of newspapers has long been bandied about as a solution for a lot of struggling publications, though not to my knowledge ever the NYT, specifically. Regardless of all these things, how the fact the NYT is merely part of the entire print (and online) media industry's struggle to make money during the transition from print to online has anything to do with the quality of their business reporting, or should have anything to do with it, is beyond me. As far as I can tell the only person likely to look glum as the result of an economic recovery is Beck, namely because he would have to find something entirely new to rail about. Video below.

Have a tip we should know? tips@mediaite.com