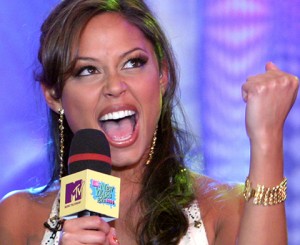 When the Earth was young and dinosaurs ruled the land, there existed a rare breed of musically-inclined critters with silly names and oversized headphones of the species disc and genus jockey – DJs, in layman's terms.
But then the cultural comet of MTV came crashing into the planet, covering the sky with a layer of music videos so thick it blocked out the sun and killed off the poor little guys. Evolution soon kicked in and found a suitable replacement who could survive in this scary new world where music was not only heard but seen, and thus the Video Jockey, or VJ, jumped to the head of the food chain.
After three decades that have seemed like millenia, the evolutionary process is again intervening in the developmental saga of the jockey, and a new species is about to take over: the TJ.
AP reports that MTV has begun the search for the network's first Twitter Jockey, an internet savvy individual who will act as a liaison between MTV viewers and executives via the eponymous social networking site. Duties include reporting on MTV events, interacting with the audience through tweets, and sporadically crawling away from the computer to appear on screen.
MTV will pick the inaugural TJ out of an applicant pool of 20 hopefuls, 18 of whom have already been chosen. The network is reaching out to the MTV audience to fill the last two slots. Over the course of the summer, contestants will be narrowed down to five finalists through a series of challenges, culminating in a live show on Aug. 8 when the audience will decide the winner.
Beginning today, viewers have the chance to enter themselves or their friends into the running for the final two openings. The lucky winner of the competition will operate out of New York and receive a six-figure salary.
From the primordial ooze to the age of the Internet, the evolution of the MTV jockey genus is far from complete. Natural selection has had its say: the VJ is dead. Long live the TJ!
Have a tip we should know? tips@mediaite.com