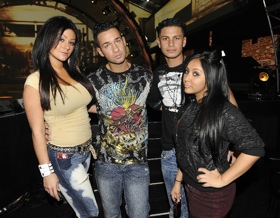 The guidorific cast of Jersey Shore is hitting up the Old Country. Starting March 22, real Italians will be able to watch the hit MTV reality series in their native language as MTV Italia plans to debut the series in the homeland of most of the show's protagonists.
The decision is as brilliant as it is risky: given that the Italian-American community was up in arms about the series for weeks until they finally realized they couldn't fight the hype and skulked away from the spotlight, whether Italians still living in Italy will share in the outrage or embrace their American counterparts is anyone's guess.
AceShowBiz, which picked up the story from Variety (and it being confirmed by the listing of Jersey Shore on MTV.it), predicts the controversy will be much less given the common use of the term "guido" within the country. MTV Italia is advertising the show as starring the "most famous Italoamericans in the world," with the site's show description roughly translating as:
The series that made a major fuss in America, going behind the scenes of the lives of eight young Italian-Americans during their summer vacation in Seaside Heights, New Jersey. On Jersey Shore you will see amazing personalities, ridiculously funny and often gladly exaggerated, taking on daily battles and the drama of feelings, work, nightlife and friendship. All to discover if there is something more under the tanning and teeming muscles.
Spoiler alert: there isn't.
Italian-Americans and Jersey residents alike were understandably outraged when the first promos for the series promising the "hottest, tannest, craziest Guidos" in the Northeast were released, so no telling how a fully Italian audience will react to watching their long-lost American cousins feebly attempt to reconnect with their heritage. But judging from the comments on the show's Italian page, AceShowBiz may not be right: comments range from the almost positive "Poor Italy" to "when I see this I wonder whether [Osama] Bin Laden had a point…" Sadly the preview is not available in America, so it's not clear whether they are using a translated version of the same promo that stirred the ire of UNICO, but hopefully, as happened on these shores, the hate will settle once the series actually debuts and all of Italy will fall in love at first Snooki-punch.


Have a tip we should know? tips@mediaite.com