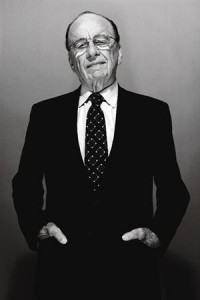 By 2005, it was time for Rupert Murdoch to "get serious" about the internet. Or so starts the engaging Financial Times profile of the wilting social network MySpace, which New Corporation acquired that summer. Kids, Murdoch noticed, were "watching less television and reading fewer newspapers," and the most fertile ground was online. Well-intentioned, but then things crumbled. It's a story that has been told, but not this well.
The acquistion of MySpace's parent company hardly seemed like a risk, the piece explains, and Murdoch was quick to pounce, transforming his image as a "curmudgeonly media baron" with what seemed like a surefire gain:
To say MySpace was a hot property back in 2005 is something of an understatement. Its rapidly expanding tribe of users had attracted the attention of other potential buyers. Viacom, for one, a rival media conglomerate that owns companies such as Paramount Pictures and Comedy Central, was eyeing it as a vehicle to revive its flagging MTV channel, a similarly youth-oriented brand.
Telling a money-centric story with simple precision requires an in-depth knowledge of the situation, and Financial Times writer Matthew Garrahan delivers a highly readable and fascinating take on the deal-turned-dud:
But by the beginning of 2008, things began to sour. Facebook, a rival social network that was simpler and easier to use, was gaining momentum and starting to grow more quickly than MySpace. Murdoch confidently told the world that MySpace would make $1bn in advertising revenues in 2008 – but the company missed its target. Users began to desert the site, which had become cluttered with unappealing ads for teeth straightening and weight-loss products. News Corp executives could hardly hide their displeasure, and in April this year, DeWolfe left, closely followed by most of his senior management team.
And it gets worse:
The situation is so dire that MySpace recently revealed that it had failed to attract enough online traffic to meet targets set in its advertising deal with Google and as a result would lose $100m this year. An acquisition that had initially covered Murdoch in glory and offered so much promise was becoming an embarrassment to the News Corp chairman and a liability for his company.
For all the gory details of tensions between the site's cofounders and their big business bosses, Murdoch's lost patience and some stellar reporting, read the entire feature here. It's the definitive account up to now.
The rise and fall of MySpace [Financial Times]
Have a tip we should know? tips@mediaite.com