Muslim Cleric Who Battled Hannity: Free Speech Doesn't Extend to Insulting Prophets of Allah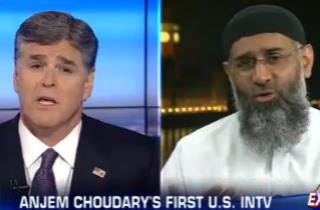 The Muslim cleric infamously featured in heated interviews on both CNN and Fox News last year took to Twitter on Wednesday morning to react to the terrorist attack on the French newspaper Charlie Hebdo. His general theme: People must understand that Muslims want to protect the Prophet Muhammed's image; and free speech should not allow for blasphemous material.

Hebdo is famous for printing cartoons depicting Muslim clerics and prophets in a satirical light. The attack on their Paris offices left 12 dead, reportedly including four cartoonists.
"Muslims love the Messenger Muhammad (saw) more than their parents, children and even themselves!" British cleric Anjem Choudary wrote on the social media site. "Why don't people understand?"
He followed that up not with a condemnation of the attacks, but rather a rebuking of the cartoons and similar political displays. "Freedom of expression does not extend to insulting the Prophets of Allah," he wrote, "whatever your views on the events in Paris today!"
In another tweet, Choudary suggested there should be more laws against blasphemous images of Muslim prophets.
"May Allah allow all Muslims & non-Muslims live together under divine law where the honour of citizens & Prophets is protected," he declared, following it up with this: "If freedom of expression can be sacrificed for criminalising incitement & hatred, Why not for insulting the Prophet of Allah?"
For background: Choudary was once spokesman for al-Muhajiroun, a radical group now banned in England. The organization has allegedly reformed under various aliases, while the cleric himself has denied ever supporting any acts of terror. He became well-known in the American media after he sparred with Fox's Sean Hannity, resulting in the host shouting at him on-air: "Are you that dumb and ignorant?"
Choudary later returned to cable news for a contentious debate with CNN's Brian Stelter, this time "jokingly" invoking 9/11 attacks during a sound check.
— —
>> Follow Andrew Kirell (@AndrewKirell) on Twitter
Have a tip we should know? tips@mediaite.com