Must Reads: Will Tonight's Special Election in Florida Predict the 2014 Midterms?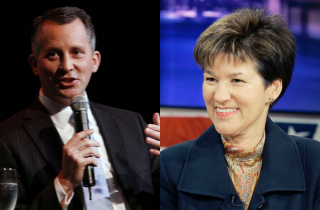 Every a.m., Mediaite publishes a primer of what the interweb machine is writing, talking, tweeting, and blogging about, so that you may fool friends and family into thinking you are a trove of information and insight. Today: all (political) eyes are on a special election in Florida to replace the late Bill Young, as we play another round of "Will this one election predict the 2014 midterms/2016 presidential race?"

Obama carried FL-13 in both elections, but the long-serving Young, a Republican, won the district on the congressional level. The latest polls have Democrat Alex Sink, who nearly won a gubernatorial race in 2010, up by three points, and ahead in early voting; meanwhile Republican candidate David Jolly may be over-performing given his lobbyist background, arguably riding a pro-Republican environment rich in anti-Obamacare ads (plus this nonsense). There's also a torrent of outside money to contend with. So: is this race a one-off decided by district-specific politics, or is it a harbinger of voter attitudes eight months from now?
"Obamacare's Ground Zero" (Dave Weigel, Slate)
Dave Weigel gets at the crux of the issue:
"Florida's 13th is bluer than the rest of Florida, and much bluer than the states—Arkansas, Louisiana, North Carolina—that will decide control of the Senate. But it's grayer than any of those states, too. Nearly 1-in-4 FL-13 residents is over 65. The electorate, which started returning absentee ballots weeks ago, is even older. In 2010, the senior vote broke for the GOP by 21 points. In 2012, it fell back to a 12-point gap. Right there—that was the difference between a narrow Republican loss and a historic Republican victory. If Obamacare could break Sink, it could break anyone. If she can defend the law, Democrats in tougher races will start to believe they can, too."
Click through for some good on-the-ground reporting.
"Personality vs. Politics in Florida Election" (Chuck Todd and Mark Murray, NBC News)
NBC News' Mark Murray and Chuck Todd ask the same question in more horse-race detail: can this election help determine if a strong candidate (Sink) can overcome a hostile environment, or conversely if a weaker candidate (Jolly) can ride the general mood into office?
"Sink has a lot of the intangibles on her side. She has more money, a higher name ID (after running for governor in 2010), an opponent whose previous job was a lobbyist (about as despised of a political occupation as you can have), and a third-party candidate (Lucas Overby) who would probably take more votes away from the Republicans. So a Sink win would be a blueprint for survival for skittish Democrats: If you run a superior race, hold most of the intangibles, and take the health-care issue head on, you can survive.

"On the flip side, a Sink loss and Jolly win will rattle a lot of Democrats, because it would prove that the environment — including a more GOP-leaning electorate — trumps everything else. If a B-minus candidate running a C+ campaign who happens to be a lobbyist can beat someone who has more of the intangibles on her side, then that is going to scare the Mark Udalls, Jeanne Shaheens, and Jeff Merkleys running for re-election in blue/purple states in November."
"Why Florida's Special Election Really Does Matter" (Linda Feldman, Christian Science Monitor)
Linda Feldman looks at how the results could effect 2014 candidates' messaging:
"Obamacare is effectively on the ballot. And if Democrat Alex Sink wins, her message – that the Affordable Care Act is worth defending but needs to be fixed – could show Democrats that Obamacare (and by extension, President Obama) isn't necessarily a dead-weight anchor around their necks in the November midterms.

[snip] "A victory by nominee David Jolly would hold the seat for the GOP and show the party that its march to a bigger House majority and possible takeover of the Senate is on track. But if Mr. Jolly loses his bid to replace his long-serving former boss, the late Rep. Bill Young, who died in October, that could force Republicans to retool their message for the fall."
Feldman hits that second point hard. The GOP went all-in on anti-Obamacare messaging for this campaign, meaning if it doesn't work, the party may have to re-think that strategy.
"No, Today's Special Election Is Not a 'Bellwether'" (Greg Sargent, Washington Post)
Meanwhile, Greg Sargent sees foolishness in looking at a solitary election with multiple contingencies as an augur of midterm races:
Most observers agree today's election will be extremely close. If you are going to say the outcome will tell us either that Dems are doomed because of Obamacare or that Dems have found the correct formula to rebuff GOP attacks on it, then you must of necessity agree that if a few thousand people, or even a few hundred, had voted the other way in this quirky special election eight months before election day, it would have supported precisely the opposite grand conclusion.
He adds caveat after caveat: a libertarian candidate who could swipe votes from either side, unpredictable special election turnout, and the fact that Sink didn't even vote for Obamacare.
[Image via Reuters/Brian Blanco]
——
>> Follow Evan McMurry (@evanmcmurry) on Twitter
Have a tip we should know? tips@mediaite.com