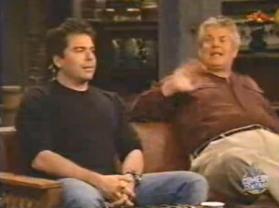 Comedian, Last Comic Standing judge and roaster extraordinaire Greg Giraldo died yesterday of an accidental drug overdose. He was 44.
Fellow comedians took to Twitter to eulogize their friend and colleague, some posting clips. Here was my favorite Greg Giraldo moment – from the underrated, since-canceled Comedy Central show Tough Crowd.
For those who don't remember, Tough Crowd was hosted by Colin Quinn from 2002-2004, and mostly featured comedians talking about the issues of the day. Sometimes it was really funny, sometimes it wasn't. And occasionally it got fantastically awkward.
Like a showdown between Giraldo and Leary. I don't know the backstory between these two – in an IGN interview, Giraldo said he felt like he had to "take a stand" against the celebrity's badgering – but the key part comes when Leary purposely steps on one of Giraldo's jokes. He wiggles out of it and delivers it anyway, followed by Leary going on the offensive. "This guy writes so many jokes before the show, it's not even funny," says Leary. "That's kind of what we do here, Denis, we're comedy writers," said Giraldo.
Then this:
Leary: You're the guy in school that did all the homework then asked if there was anymore that needed to be done.
Giraldo: That's a good point, and if you had tried a little comedy writing, maybe your show would still be on the air.
The next minute, while Quinn tried to calm down the guests and somehow close the show, was brutally awkward. "This is as ugly as it's gotten, and it definitely gets ugly on this show," said Quinn, exasperated.
It was a great moment. Check out Jon Stewart remembering Giraldo last night here. Or watch Denis Leary get brilliantly shut down below:

—–
» Follow Steve Krakauer on Twitter
Have a tip we should know? tips@mediaite.com