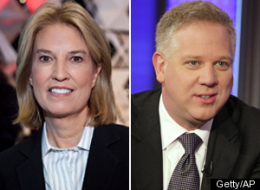 Greta Van Susteren is piping up in defense of Glenn Beck. Sort of. Seem Greta stumbled upon this headline on Vanity Fair yesterday — 'Fox on the Rocks: Glenn Beck Despised by Network President, Other Employees' — and took umbrage with it.
Check out the Vanity Fair headline below. (I did not read beyond the headline because it is so dopey that I figured the rest of the article was blah blah blah.)

I have been at Fox News Channel since Glenn Beck arrived and I have never never heard any Fox employee say Glenn Beck is despised. Despised? Where do they get this stuff? Whether you agree with Beck or not on lots or none, the fact is that Glenn Beck is very cordial and nice to his colleagues. People talk about that. Despised? Not at all. Even before he came to Fox from CNN's Headline News, the people I knew at CNN said he was very nice. Despised ? Nope. Vanity Fair just made that one up.
Not "making up" exactly. Had Greta bothered to read beyond the headline she would have realized VF was simply picking up on the NYT Mag's big cover story on Beck which notes half way through that things are not all roses between Fox and Beck:
When I mentioned Beck's name to several Fox reporters, personalities and staff members, it reliably elicited either a sigh or an eye roll. Several Fox News journalists have complained that Beck's antics are embarrassing Fox, that his inflammatory rhetoric makes it difficult for the network to present itself as a legitimate news outlet.
The NYT meanwhile was picking up on Howie Kurtz's report from last March that all was not rosy between Fox and Beck. So maybe less a case of Vanity Fair making up than picking up. Either way, always a good idea to read past the headline, especially in these heady days of SEO-friendly headlines.
Have a tip we should know? tips@mediaite.com