Nancy Grace Blasts Her Critics: 'If They Don't Like My Coverage Then Don't Watch It'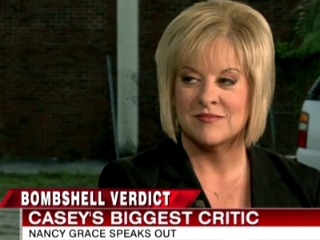 Nancy Grace's impassioned coverage of the Casey Anthony trial became so enmeshed with the case itself that, following the jury's verdict of "not guilty" on several counts, her reaction immediately became one of the most searched-for terms on the internet. Her in-depth coverage — much of it tinged with Grace's personal feelings about the case and those involved — resulted in a ratings boom for her network, HLN. With that attention and influence comes an inevitable wave of scrutiny and criticism from viewers and colleagues alike. Even Anthony's defense lawyer Cheney Mason went on television to criticize legal analysts like Grace (and, well, like himself).
Now, Grace is firing back at her critics in an interview with Broadcasting & Cable. Interviewer Andrea Morabito kicked things off by asking Grace about her "performance:"
How do you think you handled the verdict on air – you happy with your performance?

I don't really think of it as a performance. It was genuine shock, it was really stunned disbelief. I could hardly even take it in. Even now I know that it happened, I know there's a not guilty, I know tot mom's gonna walk next week, but it still seems a little surreal with such strong evidence indicating guilt, that a jury could do this.
The follow-up question we have, then, is whether an analysts "stunned disbelief" and other highly personal, emotional reactions should constitute such a major part of his or her news coverage. (From a ratings perspective, the answer is an obvious and overwhelming "YES!")
Grace also responded to one Detroit Free Press columnist's view that the publicity she managed to give the case made a murder acquittal possible, allowing Anthony to put together "a stellar defense team that she might not otherwise have been able to afford." That allegation, she believes, is simply "nonsensical." As for whether criticism of her has been fair, Grace claims not to focus on it:
What other media or pundits or defense lawyers are saying about me, that's not factored into my equation. I really didn't get into this job to win Miss Congeniality, that's what I'm about. Never fund your criticism or hate talk or slurs about yourself. What's more disturbing is to think that it might be on the Internet for my children to read one day. But if I listened to that, I probably couldn't get out of bed in the morning.
It's worth noting that, in the face of much of the criticism against her, Grace has made the smart (and — if we may be allowed to be a bit cynical here — highly strategic) choice to circle back to concern for Caylee, the young girl at the center of the case.
What has this trial meant to your career?

This trial is not about my career. This trial is about a two-year-old little girl that was murdered and her body thrown out in swampy woods to rot. It's about the person that should love her the most doing that to her. That's what the trial's about. It's not about my career. I do not have ratings incentives in my contract; I don't have any incentives in my contract. I am a crime victim myself and my goal is to focus on missing children, missing people and unsolved homicides. And if someone thinks that there is no place for me in our society with that type of show, then I believe they're very, very wrong.
As for those who see a problem with her coverage, Grace has a simple solution: "I suggest if they don't like my coverage then don't watch it."
h/t B&C
Have a tip we should know? tips@mediaite.com