Nate Silver Says A NY Hurricane Could Cost Billions Of Dollars, Doesn't Mean Irene Will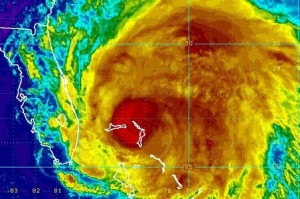 When America's Favorite Statistician Nate Silver says something, it's best to take note, because when he says that a New York hurricane could be a multibillion dollar catastrophe, as he does in his New York Times blog today, chances are he's on to something. He doesn't, however, mean that Hurricane Irene will.
"What if a major hurricane were to pass close to New York City, as several forecasting models now suggest that Hurricane Irene might?" asks Silver. Well, "apart from the potential loss of life in the most densely populated part of the country, history suggests that the economic damage could run into the tens of billions of dollars."
Many things depending, of course. Based on numbers crunched from 20 storms since 1990, he was able to estimate the amount of economic damage a storm might cause based on its distance from New York City and the strength of its winds. "The results of this exercise are not heartening," he finds. Uh oh.
He writes:
"According the model, a hurricane with wind speeds of about 100 miles per hour — making it a "weak" Category 2 storm — might cause on the order of $35 billion in damage if it were to pass directly over Manhattan. Such a storm would probably flood New York's subway system as well as acres upon acres of prime real estate in neighborhoods like the East Village, the Financial District, TriBeCa, Coney Island, Red Hook, Dumbo, as well as parts of Staten Island and most of the Rockaways."
Now, this exercise is pegged to Hurricane Irene, and it is currently linked on the front page alongside the rest of the Times' hurricane coverage. It's all very alarming! But should we really be worried?
"Although far from the most likely scenario, this may represent a reasonable-worst-case estimate of what could happen if Hurricane Irene took exactly the wrong turn at exactly the wrong time. National Weather Service models, as of this writing, estimate that there is a 5 to 10 percent chance that Manhattan could experience hurricane-strength winds…
A $35 billion loss is equivalent to roughly half of New York City's annual budget, so the city would require significant assistance from state and federal authorities. It is also equivalent to about 1 percent of the United States' quarterly gross domestic product, so such a storm could tangibly increase the chance of a recession."
He goes on to suggest that the hand New York plays in the nation's GDP is so great, that any dysfunction suffered would reverberate far and wide. Although, as The Awl's Choire Sicha points out, hurricanes aren't always all bad for economies, as they can create a great number of jobs and insurance dollars very quickly. Irene is probably already doing wonders for Bob Dylan's music publisher.
Don't panic just yet, though. Silver remains insistent throughout the post that, "These scenarios are exceptionally unlikely to be visited in the case of Hurricane Irene, an extraordinarily dangerous but not apocalyptic storm."
A city as precariously stacked as New York stands with much to lose in a storm like this, but the forecasts are not quite as bad as they could be.
Have a tip we should know? tips@mediaite.com