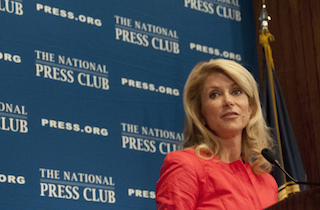 In her new memoir Texas gubernatorial candidate Wendy Davis revealed that she had terminated two pregnancies in the mid-90s, a revelation that the National Review found both politically opportunistic and not entirely convincing.
Davis, who rose to prominence thanks to a filibuster over a strict anti-abortion bill in 2013, wrote in the recently-released Forgetting to Be Afraid that she had terminated a pregnancy in 1997 after she learned the baby had an acute brain abnormality and would be stuck in a permanent vegetative state. Two years earlier Davis had undergone a procedure to end an ectopic pregnancy, a potentially fatal condition in which an embryo is implanted outside the uterus.
RELATED: Wendy Davis: 'Most Loving Thing' We Could Have Done for Daughter Was 'Say Goodbye'
National Review's Dustin Siggins quoted Texas Right to Life's Emily Horne as disputing the circumstances surrounding the procedures, arguing that abortions to save a mother's life were rare, something Siggins said matched a study on the subject, and that it would have been "unnecessary" to have ended a pregnancy over a medical condition, however severe. Horne also found the timing fishy, intimating that Davis was using the revelation to drum up Democratic support ahead of the election, in which she trails Texas Attorney General Greg Abbott.
"Davis's abortion claims are hard to take seriously" given the cited statistics, Siggins wrote, adding that "Davis has a history of manipulating both people and the truth" — the latter an allusion to discrepancies found in her biography by the Dallas Morning News' Wayne Slater.
"Maybe she had the abortion, maybe she didn't," Siggins concluded. "Maybe her reasons were as compelling as she claims. But the reasons Davis gives for having had her abortions are unproven and statistically unlikely."
UPDATE: Davis responded on The Rachel Maddow Show last night. "My family would give anything for this not to be a true story in our lives," Davis said. "We would give anything for that.
[National Review]
[Image via Albert H. Teich / Shutterstock.com]
——
>> Follow Evan McMurry (@evanmcmurry) on Twitter
Have a tip we should know? tips@mediaite.com