Report: Herman Cain 'Reassessing' Whether To Stay In GOP Race
Report: Herman Cain 'Reassessing' Whether To Stay In GOP Race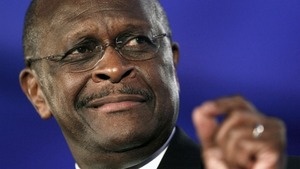 Scandal-besieged Republican candidate Herman Cain is considering dropping out of the race, according to a scoop by National Review reporter Robert Costa Tuesday morning, adding that he will decide whether the new allegations made against him will create "too much of a cloud" for supporters.
Costa reported Cain, who was in a somber mood, made the announcement via conference call:
In a conference call this morning, Herman Cain told his senior staff that he is "reassessing" whether to remain in the race. He told them he will make his final decision "over the next several days."
Additionally, Costa reported that Cain used the term "reassessing" repeatedly on conference call with senior staff members.
Amy Walters at ABC News confirmed the news through Cain's chief of staff:
Herman Cain's chief of staff Mark Block confirmed to ABC News that the candidate told his senior staff this morning that he is reassessing whether he should stay in the race, as reported by the National Review.
Cain told his staff in a conference call that he'll make his final decision "over the next several days."
UPDATE: Jennifer Jacobs at The Des Moines Register has Cain's full quotes about his pending decision:
"If a decision is made, different than we should plow ahead, you all will be the first to know," he said to about 90 people on a conference call at 10:15 a.m. central.
"Now with this latest one we have to do an assessment as to whether or not this is going to create too much of a cloud in some peoples' minds as to whether or not they should support us going forward.

I have known this lady for a number of years. And thirdly I had been attempting to help her financially because she was out of work and destitute, desperate. I have many friends. I know now that she wasn't the friend that I thought she was. But it was just a friendship relationship. Obviously this is cause for reassessment. During the summer we had to make some reassessments based on our financial situation. We were able to hang in there. When the previous false accusations came about, we made another assessment. The way we handled those was we continued on with our schedule.

And they showed it not only in terms of their verbal support, they showed it in terms of their dollar. Now, with this latest one, we have to do an assessment as to whether or not this is going to create too much of a cloud in some peoples' minds as to whether or not they should support us going forward. Any time you put another cloud of doubt, unfortunately, in the court of public opinion you're guilty until proven innocent. The public is going to have to decide whether they believe her or whether they believe me. I just wanted to let everybody know directly from me, we have not lost our enthusiasm at this point.

We are going to reassess things over the next several days and we will contact you in over the next several days and let you know positive, negative whatever the case may be. But as I said, I'm going to continue the schedule as planned."
Have a tip we should know? tips@mediaite.com