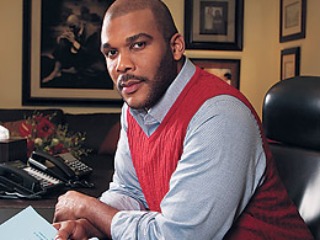 Media mogul Tyler Perry — who has been open about his own childhood experiences with violence and abuse — has penned a letter to the 11-year-old boy involved in Jerry Sandusky's widely-reported rape scandal.
"I must tell you," Perry writes, "what you have done is so courageous. The strength that it must have taken for your 11-year-old voice to speak out about such a horrible act is something that I didn't have the strength or courage to do at that age."
RELATED: The Emotional Toll Of Jerry Sandusky's Alleged Sexual Abuse Is Causing One Victim's Life To Unravel
Perry, looking back on his own inability to come forward as a child, calls the young boy his hero:
So to think that you, when you were only 11 years old, spoke up—you are my hero! I'm so proud of you. You have nothing to be ashamed of. I want you to know you didn't do anything wrong. It's not your fault. Please know that you were chosen by a monster. You didn't choose him. You didn't ask for it and, most of all, you didn't deserve it. What a huge lesson that was for me to learn. Your 11-year-old self was no match for wicked, evil tactics of this kind.
Perry also takes a shot at all the adults who essentially enabled Sandusky to continue preying on children:
Do you know that at the young age of 11 you had more courage than all the adults who let you down? All of the ones who didn't go to the proper authorities, all of the ones who were worried about their careers, reputations, or livelihoods. All of the ones who didn't want to get involved. Or even the ones who tried to convince your mother not to fight. You are stronger than them all! I wonder what they would have done if it were their own child.
Well many have likely been conditioned to view celebrities' attempts to weigh in on national talking points with a healthy dose of jaded skepticism (see: Kutcher, Ashton), Perry's letter — which is dotted not only with praise, but also words of encouragement and realistic advice for dealing with the aftermath of abuse — appears not only heartfelt, but productive and helpful. He's the voice of experience, speaking not as a victim, but as a survivor, and encouraging this young boy to struggle and fight in order to do the same.
Read the full letter over at The Daily Beast and let us know what you think.
h/t The Daily Beast
Have a tip we should know? tips@mediaite.com