Nat'l Parks Twitter Accounts Continue to Subtly Jab Trump Administration in Presumed Defiance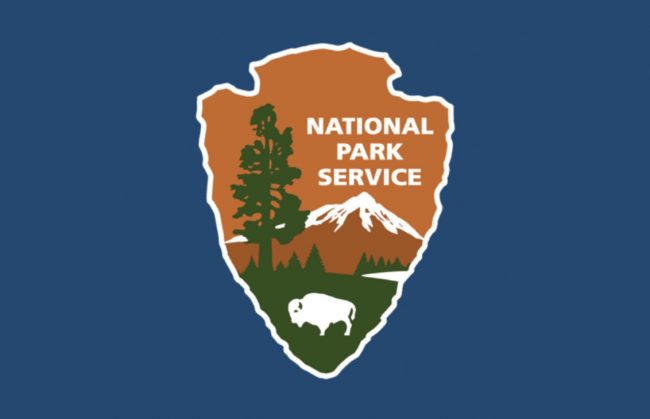 It all started last Friday following the swearing-in ceremony of President Donald J. Trump on the west steps of the Capitol.
The official and verified Twitter account of the National Park Service retweeted a side-by-side comparison posted by Binyamin Applebaum of Friday's crowd and the same shot — taken at the same time — of Barack Obama's ceremony eight years ago. The revelation was clear: Trump's crowd sizes were, well, trumped by those of Obama's. And the crowd sizes weren't even close.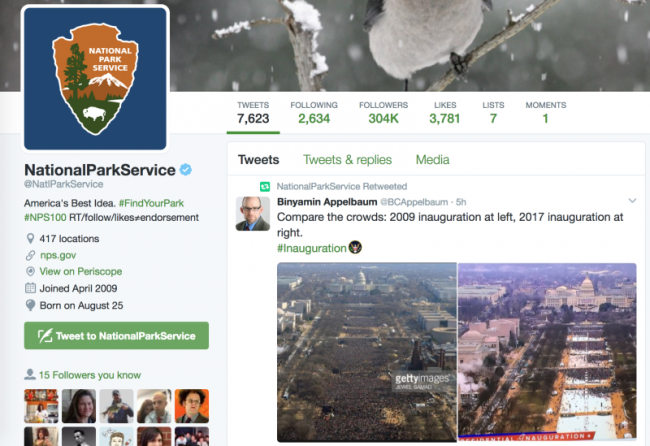 Soon enough, the tweet was un-retweeted, and in its place an apology from the National Parks Service that read, "We regret the mistaken RTs from our account yesterday and look forward to continuing to share the beauty and history of our parks with you." But as Gizmodo originally reported Friday night, the NPS was directly ordered by its Washington counterpart to stop Tweeting altogether after the flap; an email to National Parks employees read in part:
All:

We have received direction from the Department through [the Washington Support Office] that directs all [Department of Interior] bureaus to immediately cease use of government Twitter accounts until further notice… In summary, this Twitter stand down means we will cease use of Twitter immediately.
But the National Park Service Twitter account would not be the last one to throw shade at the new administration and our nation's 45th Commander in Chief. Soon after, the Badlands National Park account began sending social media updates (seemingly unprovoked) all about climate change facts regarding carbon dioxide and acid levels in our oceans.
These Badlands National Park tweets. Gone. Staff in the office? pic.twitter.com/Hgza4GDK8H

— Eric Lipton (@EricLiptonNYT) January 24, 2017
Yet again, the Tweets were deleted; a representative told Buzzfeed News last night that it was due to a former employee who improperly gained access to the account, and not a directive from the White House to take corrective action.
Then, NASA got in on the fun; a Twitter account dedicated to tracking climate suddenly sent out a carbon dioxide chart, indicating that we've surpassed the highest historical CO2 levels and that December 2016's global temperature was the third highest on record.
Dec 2016's avg global temp was 3rd highest on record. Global avg atmospheric CO2 concentration was ~405 ppm. https://t.co/Q7xdVFTBf5

— NASA Climate (@NASAClimate) January 24, 2017
But bureaucratic agencies didn't stop there with actions that could be interpreted as combating the points of view of the Trump administration. The Department of Defense account honored Cpl Ali J. Mohammed from the Marine Corps, saying he went "From refugee to #Marine."
From refugee to #Marine. @USMC Cpl Ali J. Mohammed takes the fight to the doorstep of those who cast his family out.https://t.co/oSXWGrzsL7 pic.twitter.com/UVlWsaESic

— U.S. Dept of Defense (@DeptofDefense) January 25, 2017
The Tweet has been retweeted nearly 8,000 times as of this publishing.
And now, we can add Death Valley National Park to the list of curious social media actions that certainly seem to be in indirect response to President Trump's rhetoric (screengrabs are provided in case they, too, magically wind up deleted):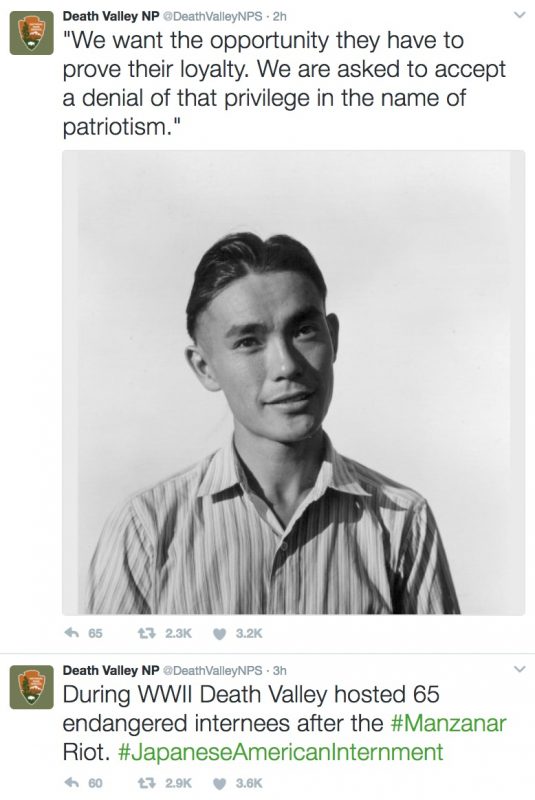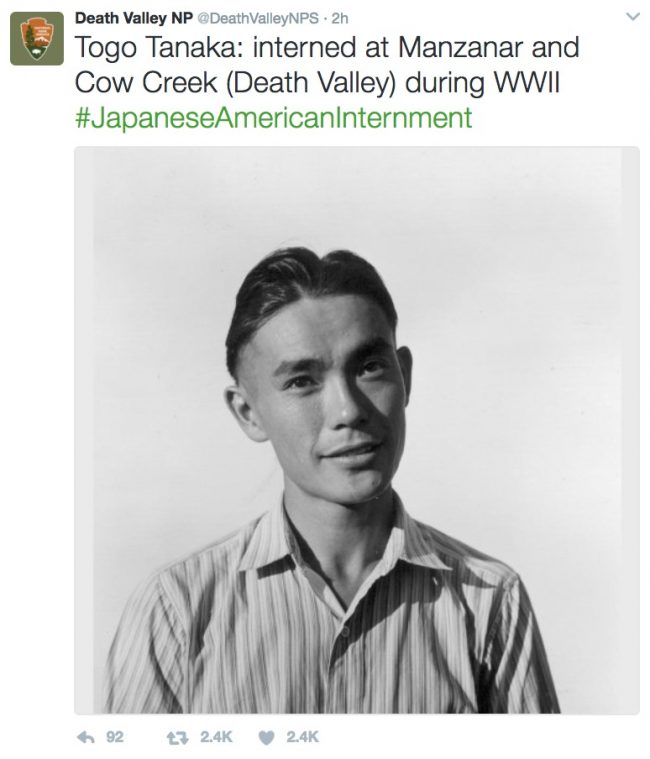 Death Valley National Park used its account Wednesday to draw attention to Japanese internment practices during World War II; it shows the photo of one of those such people — Togo Tanaka — identifying that the national park housed 65 "endangered internees" as part of its history. Of course, the Trump campaign rhetoric regarding immigration, registry, and anti-Muslim sentiment led many to invoke the FDR-era internment camps as a dark chapter in American history.
Adrienne Watson, press secretary for the Democratic National Committee, slammed the administration's role in silencing the accounts as "borderline authoritarian"; Watson said in a statement late Tuesday:
"The administration's disturbing suppression of taxpayer-funded federal agencies' communication with the public and Congress undermines basic democratic norms. We cannot treat such borderline authoritarian actions as business as usual. How long will it take for the Twitter account of Badlands National Park Service to be suspended for its defiance?"
Despite the silencing of the National Parks Service, an impromptu unofficial account that claims to be run "by several active NPS rangers and friends" has sprouted up, tweeting salty and aggressive messages from the handle @AltNatParkSer. The account already touts 486K followers, updating users with tweets such as these:
President Trump has called climate change a hoax & the White House deleted the climate change policies on its website on inauguration day.

— AltUSNatParkService (@AltNatParkSer) January 25, 2017
Want some real fact to go with your alt-president? US national parks posted tweets about climate change that were later deleted.

— AltUSNatParkService (@AltNatParkSer) January 25, 2017
A media blackout has also been introduced over our colleagues at the Environmental Protection Agency (EPA).

— AltUSNatParkService (@AltNatParkSer) January 25, 2017
The effort on the social media page have been decidedly pro-Women's March on Washington, even at one point urging followers to help contribute to a science-based protest effort:
Can you help with planning of the Scientist march on Washington? Please look at https://t.co/i7kO1o8JvB to see if you can help organize

— AltUSNatParkService (@AltNatParkSer) January 25, 2017
So what's next for this growing effort of social media activism by our parks and federal agencies? Will Yellowstone tweet about the LGBTQ community? Or Zion National Park in Utah using their page to promote pay equity? Maybe Sequoia will Tweet out about the importance of keeping the Affordable Care Act — or, at least, repealing it only if something better can replace it. Whatever happens next in this bizarre but noteworthy grassroots effort presumably aimed at defying the new administration, we'll keep our eyes on it.
Oh, and as for that alt-account allegedly run by Park Service employees in their spare time? This is their pinned Tweet, firmly locked at the top of their page for all visitors to see:
Can't wait for President Trump to call us FAKE NEWS.

You can take our official twitter, but you'll never take our free time!

— AltUSNatParkService (@AltNatParkSer) January 25, 2017
—
J.D. Durkin (@jivedurkey) is an editorial producer and columnist at Mediaite.
[screengrab via Gizmodo]
Have a tip we should know? tips@mediaite.com