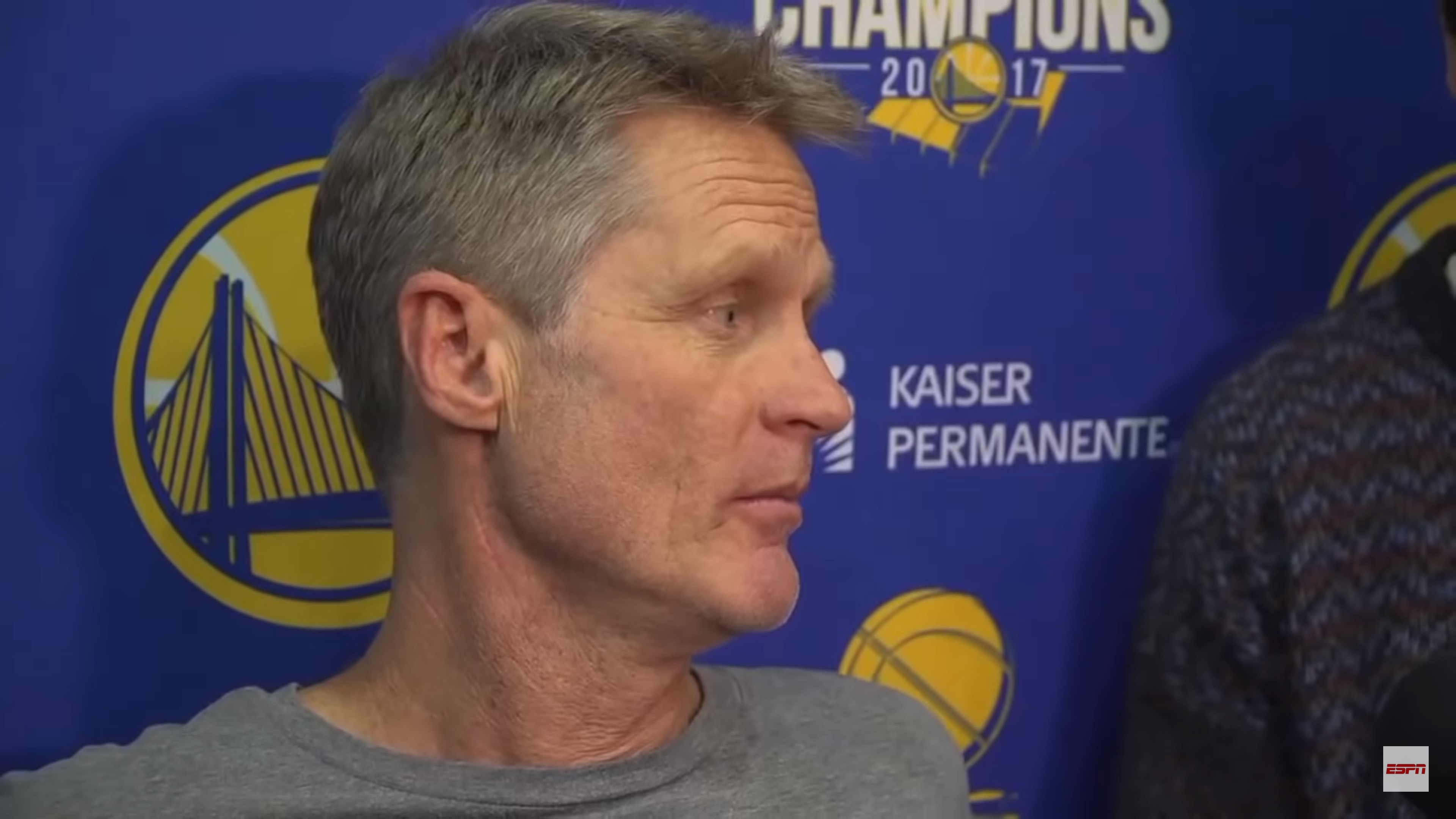 Golden State Warriors head coach Steve Kerr slammed the NFL's ruling against kneeling on the field during the national anthem, calling it "fake patriotism."
In a statement tweeted by Anthony Slater, a reporter for The Athletic, Kerr said the league's decision was simply meant to appease fans, "scaring people" with nationalism. The remarks were made ahead of the fifth game of the Western Conference Finals.
"It's idiotic," he said. "But that's how the NFL has conducted their business. I'm proud to be in a league that understands patriotism in America is about free speech and peacefully protesting. Our leadership in the NBA understands when the NFL players were kneeling, they were kneeling to protest police brutality, to protest racial inequality. They weren't disrespecting the flag or the military."
The league's decision on kneeling, which was announced Wednesday, mandates that players either remain standing on the field as the anthem plays, or stay in the locker room during that time.
Just after the news broke, President Donald Trump told Fox & Friends he felt the rule was a good idea, and suggested that anyone who refuses to stand might not belong in the U.S.
"Well, I think that's good," he said about the policy. "I don't think people should be staying in locker rooms. But still, I think it's good. You have to stand proudly for the national anthem, or you shouldn't be playing, you shouldn't be there. Maybe you shouldn't be in the country."
However, Kerr noted that the president's involvement in the matter has been one of the problems, stating that when it comes to matters of respect for the flag and the armed forces, it was Trump who "decided to make it about that and the NFL followed suit, pandered to their fanbase, created this hysteria."
"It's kind of what's wrong with our country right now," Kerr said. "People in high places are trying to divide us, divide loyalties, make this about the flag as if the flag is something other than it really is — which is a representation of what we're about, which is diversity, peaceful protests, right to free speech. It's ironic, actually."
[Image via screengrab]
Follow Amy Russo on Twitter: @amymrusso
Have a tip we should know? [email protected]