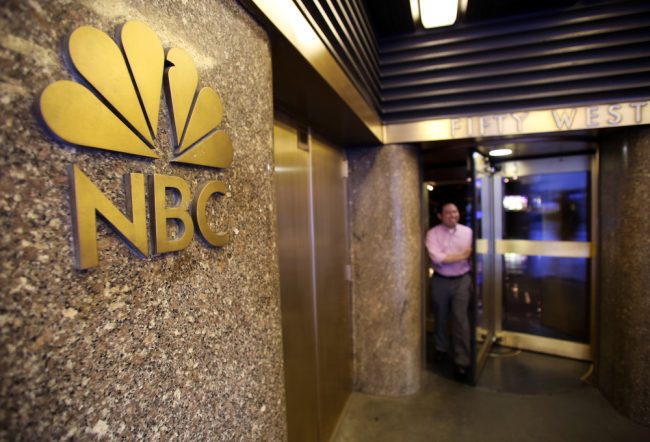 NBC News is defending itself against criticism that they dropped the ball on the Harvey Weinstein story by allowing Ronan Farrow — a correspondent for the network — to publish his reporting in The New Yorker rather than air it on one of their platforms.
At a town hall forum in New York Wednesday (in remarks quoted via The Hollywood Reporter), NBC News president Noah Oppenheim said that everyone at the company can hold their heads high over their actions on the Weinstein investigation — which Oppenheim said was initially reported for the network.
"[I]t would pain all of us who were involved in that, and involved in investigations, if anyone at this organization, thought there was anything to be ashamed of in that decision making process," Oppenheim said. "In fact, quite the contrary."
Oppenheim said that Farrow was given resources and "many, many months" to report the story, but couldn't bring it in for a landing. Last summer, Oppenheim said the network made the decision to pull the plug. But Farrow wanted to keep chasing it, so he continued the project for The New Yorker, where he eventually published his findings on Tuesday.
"The notion that we would try to cover for a powerful person is deeply offensive to all of us," Oppenheim said.
On Tuesday, Farrow told Rachel Maddow that he disagreed with the multiple assessments at NBC that the story was not reportable.
"I walked into the door at The New Yorker with an explosive reportable piece that should have been public earlier and immediately obviously The New Yorker recognized that and it is not accurate to say that it was not reportable," Farrow said. "In fact, there were multiple determinations that it was reportable at NBC."
What remains unclear from the Oppenheim statement is why Farrow had to be taken off of the story during the summer. Was there another time-sensitive project that NBC needed him on? If they had invested "many, many months" on the Weinstein project, why completely take him off a story that he only planned to pursue elsewhere anyway? Questions certainly remain.
[image via Shutterstock.com]
——
Follow Joe DePaolo (@joe_depaolo) on Twitter
Have a tip we should know? [email protected]
Joe DePaolo - Senior Editor