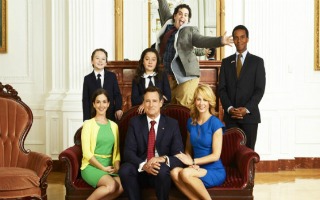 A former speech writer for President Barack Obama, Jon Lovett, has received a commission from NBC to develop 13 episodes of a sitcom about family life in the White House. 1600 Penn is the fifth comedy that NBC has picked up for the 2012-2013 season.

RELATED: Jon Stewart Proclaims Winner In Romney/Obama Comedy Showdown
1600 Penn stars Bill Pullman and Jenna Elfman as the first couple, and Book of Mormon actor Josh Gad. The first episodes will be directed by Modern Family veteran Jason Winer.
The Hollywood Reporter writes:
Described as a Modern Family-type show set in the White House where all the kids are far from perfect… Gad will write and executive produce alongside Lovett. Winer will exec produce and direct the single-camera effort from 20th Television.
Upon learning the news, Ben LaBolt, Obama for America press secretary, tweeted "huge" to actor and Obama advisor Kal Penn and Lovett:
Huge MT @kalpennCongrats @jonlovett! MT"@THR: NBC Orders White House Comedy '1600 Penn,' to Series j.mp/IVx2cv"

— Ben LaBolt (@BenLaBolt) May 8, 2012
BBC News notes that in September 2011, Lovett left the White House to pursue a career in Hollywood. He will serve as the new program's executive producer.
In November, after he sold the pilot to NBC, Lovett told The Hollywood Reporter the comedy would not be based on real stories from the White House.

"Obviously, my experiences are going to inform what I do, but this family will have absolutely nothing to do with the president," he said.

"The idea is that this is a dysfunctional family, and the first family today is so far from that, it's ridiculous."
Have a tip we should know? tips@mediaite.com