NBC Reporters Refute Idea That Clinton Emails Are 'Reopening,' Say Comey Just Using 'Caution'
Mark Murray is NBC's senior political editor and he made quick work of responding to the reports that FBI director James Comey is updating his stance on the probe into Hillary Clinton's emails. He used his Twitter to blast out real-time information from Pete Williams, another NBC reporter who appears to have been working on the story.
Reporting from @PeteWilliamsNBC: This is not a "reopening" of the email investigation. As a technical matter, it was never closed

— Mark Murray (@mmurraypolitics) October 28, 2016
More @PeteWilliamsNBC: Comey letter was sent to Hill "out of an abundance of caution" to be extra thorough 2/

— Mark Murray (@mmurraypolitics) October 28, 2016
.@PeteWilliamsNBC adds: There is no sense that any of this was due to withholding of evidence. New emails discovered on "another device" 3/

— Mark Murray (@mmurraypolitics) October 28, 2016
And @PeteWilliamsNBC says that while the political consequences of today's news could be substantial, they might not be legally 4/

— Mark Murray (@mmurraypolitics) October 28, 2016
Williams, who is the News and Justice correspondent at NBC News, explained that the probe has not been reopened on MSNBC:
NBC's Pete Williams: Sr. officials say—During separate investigation "a device" led to add'l emails–not from Clinton https://t.co/QmmNoxXhOx

— Bradd Jaffy (@BraddJaffy) October 28, 2016
"When the director announced in July that they'd found no evidence, they were through with the bulk of it. As a purely technical thing, investigations don't just close like that the next day. So, it's really never been closed. It will at some point be, but it hasn't been yet, so to be purely technical about it, it's not being reopened."
Senior news editor and writer at NBC Nightly News Bradd Jaffy tweeted out the video of Williams saying that, getting responses that called Comey irresponsible and accused him of putting his "thumb on the scale."
Murray retweeted one of those: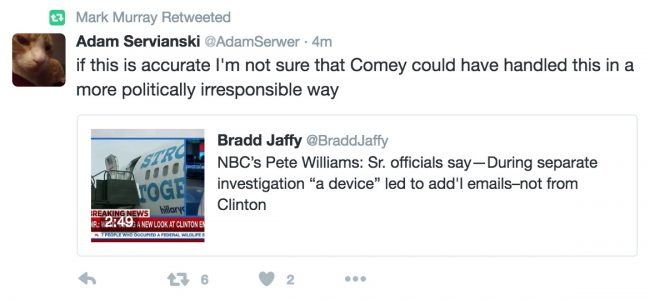 It appears that a number of staff members at NBC News is joining together to combat the misconception that the probe is being reopened.
[image: screengrab]
Have a tip we should know? tips@mediaite.com