Earthquake Triggers Mt. Everest Avalanche; Hikers Killed and Stranded (UPDATED: Google Exec. Killed)
The massive earthquake in Nepal earlier today killed thousands of people, but it also triggered set off a deadly avalanche on Mount Everest. So far, reports have said 10 people died, though other unconfirmed reports say as many as 18 bodies have been found, which would make this the deadliest day on Everest in history.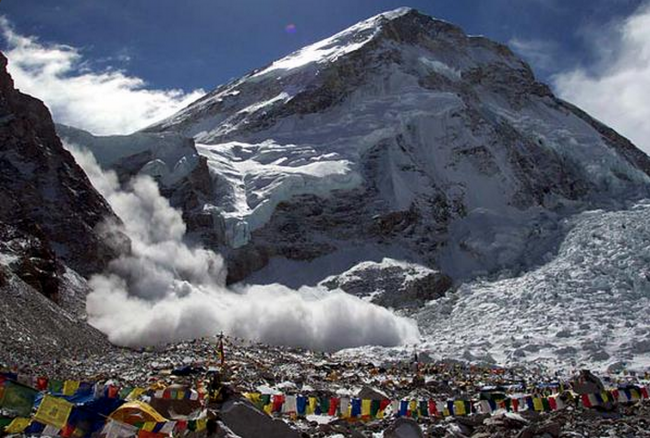 Meanwhile, there are many others who have been reported missing. Scores of people are stranded on the mountain, and some of the tweets about this are from people who had near-death experiences:
We have a @charitywater fundraiser on Everest right now stranded with 100 climbers above Ice Falls with no way out. Helicopter Evac needed

— Scott Harrison (@scottharrison) April 25, 2015
Walking into Ebc was coincidentally filming when the avalanche struck. Our team is safe, waiting for news of others pic.twitter.com/dzMTaOKU7x

— Jelle Veyt (@cycling2himalay) April 25, 2015
Everest base camp huge earthquaqe then huge avalanche from pumori.Running for life from my tent. Unhurt. Many many people up the mountain.

— Alex Gavan (@AlexGAVAN) April 25, 2015
Huge disaster.Helped searched and rescued victims through huge debris area.Many dead.Much more badly injured.More to die if not heli asap.

— Alex Gavan (@AlexGAVAN) April 25, 2015
We're safe at camp 1. Apparent earthquake. We had avi nearby, powder blast & glacier moved. Injuries in basecamp. Sta http://t.co/GMYy5citdi

— Jim Davidson (@ClimberJim) April 25, 2015
A Massive earthquake just hit Everest. Basecamp has been severely damaged. Our team is caught in camp 1. Please pray for everyone.

— Daniel Mazur (@danielmazur) April 25, 2015
Walking back from camp 1in EBC. A major earthquake occurred followed by a massive avalanche. Ran for my life, al fine now. No phone

— Jelle Veyt (@cycling2himalay) April 25, 2015
One of the men on the mountain said that they dealt with the aftermath of the avalanche at the base camp first, and now they're trying to "create new routes" to help and look for the others:
"Everybody's pretty much in rescue mode, but this is different from some independent climbing accident where people can be rescued and taken somewhere else. I don't know where somewhere else is."
An Indian Army Everest Expedition Team took swift action to carry out search and rescue operations:


Some photos were taken at the scene of the base camp:
Azim Afif: Scores dead, missing, injured at Everest Base Camp. SAR still ongoing. No definite figure so far @501Awani pic.twitter.com/nzSlJdFzRl

— Rizal Zulkapli AWANI (@rizalzulkapli) April 25, 2015
Nepal #earthquake triggers Everest avalanche, 10 killed http://t.co/WdYU98dbGk pic.twitter.com/CM44vNxHJG

— India Today (@IndiaToday) April 25, 2015
The first picture is an avalanche heading towards Mount Everest base camp.

The next 3 show the devastation & death:( pic.twitter.com/b1zFYJzHj6

— Kiran Kumar S (@KiranKS) April 25, 2015
Base camp sherpas running down the mountain, not even stopping in Lobouche! #Everest #NepalQuake pic.twitter.com/mwBwwH1lJb

— David Arvan (@threadalist) April 25, 2015
And you can watch video of one of the mountaineers here, via NBC News:
UPDATE — 04/25/15, 5:41 p.m. ET: Google Executive Dies in Avalanche:
Google Executive Daniel Fredinburg was one of the 10 people killed during the avalanche. Google's Director of Privacy Lawrence You released the following statement:
"Sadly, we lost one of our own in this tragedy. +Dan Fredinburg a long-time member of the Privacy organization in Mountain View, was in Nepal with three other Googlers, hiking Mount Everest. He has passed away. The other three Googlers with him are safe and we are working to get them home quickly… Our thoughts are with the people of Nepal, and with Dan's family and friends during this terrible time."
His sister released the following statement via Instagram:
Below is a picture from Mr. Fredinburg's Instagram account:
You can read more via ABC News, here
UPDATE — 04/26/15, 12:15 p.m. ET: The New York Times reports that the death toll has risen to more than 2,200 people after a 6.7 magnitude aftershock rocked the country just one day later.
[featured image via @KiranKS]
— —
Follow Josh Feldman on Twitter: @feldmaniac
Have a tip we should know? tips@mediaite.com
Josh Feldman - Senior Editor