New Accuser States Trump Groped Her; Asked 'Don't You Know Who I Am?' When She Recoiled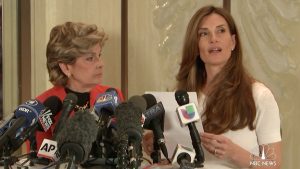 Donald Trump is now facing his thirteenth accusation of sexual abuse, the newest woman alleging that the mogul made sexual comments about her and touched her breasts.
As the GOP candidate remains bogged down by his past treatment of women, New Jersey yoga instructor Karena Virginia has become the latest person to publicly discuss an encounter with The Donald. In a presser with Gloria Allred, who is representing other Trump accusers, Virginia alleged that Trump groped her outside the London Hotel in Manhattan back in 1998.
"In 1998, I was at the US Open tennis tournament in Flusing, Queens, waiting for a car to arrive. As I was waiting, Donald Trump approached me. I knew who he was but I'd never met him. He was with a few other men. He said, 'Hey, look at this one. We haven't seen her before. Look at those legs', as though I was an object rather than a person."
Virginia then said that Trump grabbed her arm while touching the inside of her breast. When Virginia flinched, she said, Trump asked her "'Don't you know who I am?'"
Virginia's car soon arrived, and she was able to get away from Trump. Even so, she said that she felt "intimidated and powerless" during the encounter, and that it left her with a feeling of shame.
Virginia also said that she stopped wearing short dresses afterwards, and Allred told reporters that her client previously confided the incident with family and friends.
Trump continues to face fallout from old audio of him bragging about how he can touch women sexually, and then get away with it due to his celebrity status. He has continued to deny the allegations against him, having attacked his accusers on their looks and said they weren't pretty enough for him to sexually harass.
Watch above, via MSNBC.
UPDATE: 2:17 p.m. ET: The Trump campaign has offered a response:
Trump camp statement on the latest accuser to come forward and allege Trump grabbed her without consent: "give me a break." pic.twitter.com/dSdMUyiGFM

— Ali Vitali (@alivitali) October 20, 2016
[Image via screengrab]
— —
>> Follow Ken Meyer (@KenMeyer91) on Twitter
Have a tip we should know? tips@mediaite.com