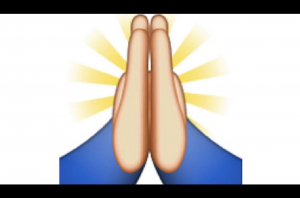 For every young fan of Scripture who has always said, "Man, I wish I could read the holy word of God but with more smiley faces," enter the newly-released Bible Emoji book that hit the iBook shelf Sunday.
There really isn't much room for misinterpretation here; the product is exactly what it sounds like: all 66 books of the Bible "translated" (I use that word incredibly loosely) using Apple emojis. Let's take this revamped holy text out for a spin shall we?
Here's an example from the accompanying Twitter account of the book, @Bibleemoji:
The Bible… translated w/ Emojis! pic.twitter.com/3OsT7Nr8iD

— Bible Emoji (@BibleEmoji) May 29, 2016
There you have it! Exactly as the authors of the Old Testament envisioned it.
The method behind the gladness was revealed by the book's author, whose name is unknown and who is identified simply by a — you guessed it — emoji:
"You start with emojis that are really common — for instance, the earth emoji can mean earth, world, or planet.

Eventually I created an actual translator program with a list of 80 different emoji icons, and 200 corresponding words.

"In addition: I built in some common shorthand — so that 'and' became &, and 'first became 1st."
He/she told HuffPo about the project, "I hope that [people] view it as fun. I hope that it has people on both sides go and maybe look for themselves and what's in the Bible and what it says. The book has a lot of human history in it, a lot of really good things and also negative things. I hope it helps everyone on both sides of the argument to see it for what it is."
The project took six months to complete, and users can now plug-and-play with their own favorite Bible verses by using the Bible Emoji Translator, where instructions prompt users to, "enter ur fave Bible verse on the left // emoji awesomeness appears on the right."
So the question remains: will Pope Francis call for a Vatican III to usher in these new changes to texts around the world? The Pontiff has shown a willingness to embrace millennial change before…
Bible Emoji: Scripture 4 Millennials — "A great and fun way to share the gospel" — sells for $2.99 on iTunes and is now available.
—
Have a tip we should know? tips@mediaite.com