Johnny Depp Is Being Blackmailed, Falsely Accused of Abuse, Says Comedian Friend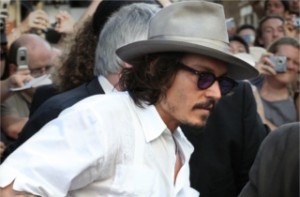 Johnny Depp is being blackmailed by his second wife Amber Heard, according to his friend, the comedian Doug Stanhope, writing in a guest column for The Wrap.
Heard filed for divorce this month, and she accused Depp of assaulting her on Saturday, May 21. Photos appeared in the press of Heard with apparent bruises on her face.
"Abusing women is bulls—. Johnny doesn't abuse anyone. And he told me that day ahead of time that she'd pull some kind of s— like this. Johnny Depp got used, manipulated, set up and made to look like an a–hole. And he saw it coming and didn't or couldn't do anything to stop it," Stanhope writes.
The comedian continues:
My girlfriend, Bingo, and I have known Johnny Depp for a few years now. We have watched Amber Heard f— with him at his weakest — or watched him at his weakest from being f—ed with — for the entire time we've known him.

And we didn't say s—.

Because he's Johnny Depp.

And we didn't want to be thrown out of the circle for saying that The Emperor was being Stripped of His Clothes.

[…] Bingo and I were at Johnny's house for most of that Saturday until just before the alleged assault. We assumed initially that his dour mood was because of his mother's death the day before. But he opened up in the most vulnerable of ways that it was not only his mother, but that Amber was now going to leave him, threatening to lie about him publicly in any and every possible duplicitous way if he didn't agree to her terms. Blackmail is what I would imagine other people might put it, including the manner in which he is now being vilified.

We stopped not saying s—.
You can read the complete column here.
[image: Caroline Bonarde Ucci via Wikicommons ]
Have a tip we should know? [email protected]
---