New Billboard Ad Campaign Compares Americans That Believe In Global Warming To Osama Bin Laden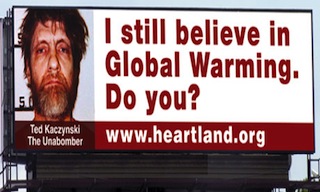 Every day I get the privilege of watching the Fox News panel show The Five and, recently, it's seemed like every other episode has featured an entire segment dedicated to ridiculing and complaining about environmental conservation of any kind. In a few of them, hosts like Greg Gutfeld and Eric Bolling have mentioned President Obama's "flat earth society" comment, seething in anger than anyone would dare insult their denial of scientific evidence. And they're right. That was probably a step too far for a President. But, hey, at least no one compared them to terrorist mass-murderers!
No, that's the Heartland Institute's job! They've begun purchasing billboards to promote an upcoming conference on denying climate change (Ooh! I hope it's not sold out!). And these aren't any billboards. As the Guardian first reported, these billboards compare anyone who believes in Global Warming to fun folks like Ted Kaczynski.
First, who is the Heartland Institute? They're a right wing think tank that gets a bunch of money from the oil industry and has spent the last few years trying to muddy any discussion about climate change. They're also the group that, in the 90s, took a bunch of money from Phillip Morris to try and prove that second hand smoke actually isn't at all dangerous. In other words, they're super duper trustworthy!
Ok, now lets get back to the ad campaign. Basically, the idea is that, since Kaczynski and planned future-billboard star Bin Laden once said stuff that implied they believe in climate change, anyone who also believes in climate change is like them. It's really brilliant stuff. Although I'm a bit annoyed they stole the idea from my famed "Hitler breathed oxygen. Should you?" campaign.
Here's how they rationalize it on their website:
"1. Who appears on the billboards?

The billboard series features Ted Kaczynski, the infamous Unabomber; Charles Manson, a mass murderer; and Fidel Castro, a tyrant. Other global warming alarmists who may appear on future billboards include Osama bin Laden and James J. Lee (who took hostages inside the headquarters of the Discovery Channel in 2010).

These rogues and villains were chosen because they made public statements about how man-made global warming is a crisis and how mankind must take immediate and drastic actions to stop it.

2. Why did Heartland choose to feature these people on its billboards?

Because what these murderers and madmen have said differs very little from what spokespersons for the United Nations, journalists for the "mainstream" media, and liberal politicians say about global warming. They are so similar, in fact, that a Web site has a quiz that asks if you can tell the difference between what Ted Kaczynski, the Unabomber, wrote in his 'Manifesto' and what Al Gore wrote in his book, Earth in the Balance.

The point is that believing in global warming is not 'mainstream,' smart, or sophisticated. In fact, it is just the opposite of those things. Still believing in man-made global warming – after all the scientific discoveries and revelations that point against this theory – is more than a little nutty. In fact, some really crazy people use it to justify immoral and frightening behavior.

Of course, not all global warming alarmists are murderers or tyrants."
Ooooooooh. We aren't all murderers? I'm so sorry. I totally misunderstood!
Anyway, these people are horrible and they should be ashamed. Of course, they might not feel any shame about this at all. By the way, do you know who else didn't feel shame? Osama bin Laden.
Just saying…
(h/t Think Progress)
Have a tip we should know? tips@mediaite.com