New Clinton Documents Released, Include References to Lewinsky, MLK, and Porn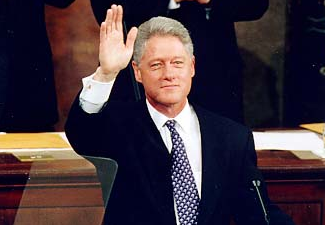 Another set of documents from the Bill Clinton presidency has been released by the Clinton library, and these documents include references to how the Clinton White House wanted to deal with the post-Monica Lewinsky era, issues they were struggling to talk about publicly, and, of course, porn.
Let's get that last one out of the way first. In a draft of Clinton's 1998 State of the Union, the director of speechwriting scribbled a joke about porn in the margins. Here's the part in question, as captured by BuzzFeed.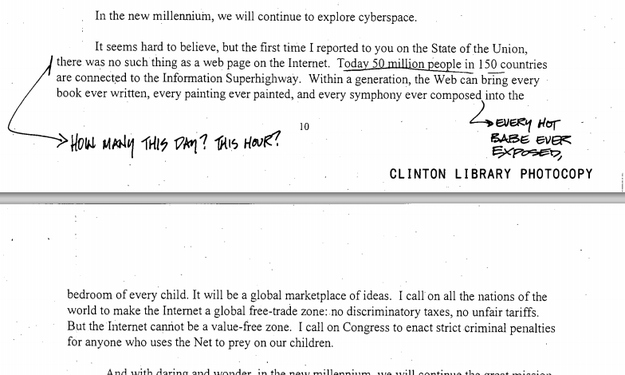 Now, January 1998 is when the Lewinsky scandal went public, and there are e-mails in the trove of documents that show they were trying to figure out a way for Clinton to "articulate in his speech a tone that reflected restoring people's faith and trust in him and the Presidency." They mulled reassurances over Clinton's commitment to lead in the State of the Union address, but Clinton did not reference the scandal in any way in that State of the Union address.
And another issue the White House dealt with in that 1998 address was a reference to Martin Luther King Jr. that got scrubbed. In a draft of the speech, there was a mention of King amidst talk for new anti-discrimination laws, but someone was concerned about the message it conveyed.
But someone in the White House – from reading the handwriting, it's not clear who – scrawled a note in the margin expressing anxiety about the passage.

"Is there some way to be a bit more positive and speak to white people?," the note reads.
And, yes, that was not in the final version of the 1998 State of the Union address either.
— —
Follow Josh Feldman on Twitter: @feldmaniac
Have a tip we should know? tips@mediaite.com
Josh Feldman - Senior Editor