New Jersey GOP Candidate In Hot Water After Instructing Women To Be 'Whores In The Bedroom'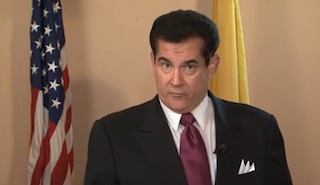 There truly is nothing more disgusting than the political machine; the shadowy decision-makers who will do anything to make sure their followers and sycophants end up in office, even if that means ruining a good man who was foolish enough to throw his hat in the ring. That's the sad lesson learned by Phil Mitsch, a self-described "leading economic, real estate, lending and motivational coach" as well as GOP candidate for New Jersey state Senate. Mitsch's name has been dragged through the mud and all he did was try to save the good state of New Jersey.
Oh, and tell women to act like whores.
Mitsch, as a "leading economic, real estate, lending and motivational coach," fills his Twitter with many daily tips. Success tips like this one: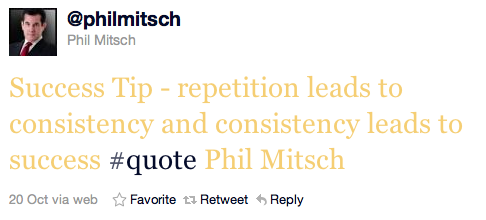 Leadership tips like this one: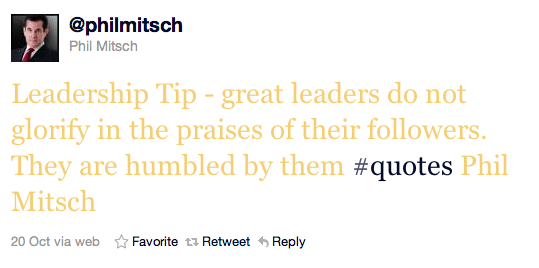 And romance tips like this one which kind of sounds more like a saying than a tip but whatever:

Unfortunately though, one of those romance tips has gotten him in trouble. On September 2nd, Mitsch tweeted "Women, you increase your odds of keeping your men by being faithful, a lady in the living room and a whore in the bedroom." A few weeks later, the Tweet caught the eye of the schemers and deceivers in New Jersey's Democratic Party who said he needed to drop out of the race. And…uh…alsot the schemers and deceivers in New Jersey's Republican Party whose sprokesman Rick Gorka said "Phil Mitsch's remarks make him unfit for public office."
Of course, Mitsch knew all this talk about him "offending women" and whatnot was just an orchestrated attempt to ruin a man who was just getting too close to power!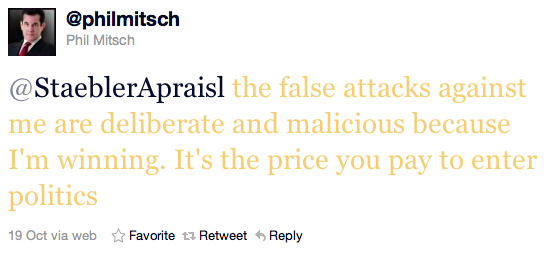 Besides, as he told the Philadelphia Inquirer's editorial board a few days ago, there was nothing wrong with what he said. It was just good advice.
"That's a great tip," he said Wednesday in a meeting with The Inquirer's editorial board. "That shows the utmost respect for women. . . . What I was trying to say to men was, 'Men, look, if you got to go out and play around and you can't be honest with a woman and respect her, then you're better off just doing pay, play, and get the 'F' away.' "
But the slander-merchants kept hitting. Now they were attacking him for "defending his Tweet." But, Mitsch didn't defend his Tweet. It sounded like he did. But, no, he was actually defending someone else's quote that just happened to show up in his Tweet.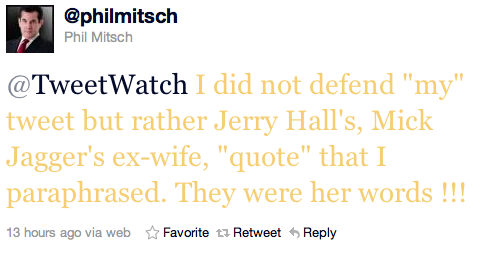 Duh! It's so obvious.
However, the political machine kept on coming. It kept attacking. It kept destroying.
And so, last night, a good man had to apologize. Mitsch released a brief statement.
"'I would like to sincerely apologize for any offense I may have caused anyone, particularly women, as a result of a Twitter post that has recently been reported,' Mitsch said.

…

'The specific tweet in question is an age-old saw most notably quoted by Jerry Hall, Mick Jagger's ex-wife, in the early 1990's: 'My mother said in order to keep a man, you must be a maid in the living room, a cook in the kitchen, and a whore in the bedroom,' ' the Republican candidate said in the statement. 'I updated her quote with the fact that men should 'be faithful, a gentleman in the living room and a stud in the bedroom,' but looking back, I didn't update the original terminology enough to reflect 21st century sensibilities.'"
Even that wouldn't be enough though. Cog in the machine Gorka, after reading the apology, stated that the position of the New Jersey GOP "will not change."
So, is Mitsch a beaten man? Has this good, honest American, a man who just wanted to let us know how to better whore and stud it up, been ruined? Well, good friends, the answer is no. He will keep fighting.
This afternoon he Tweeted this: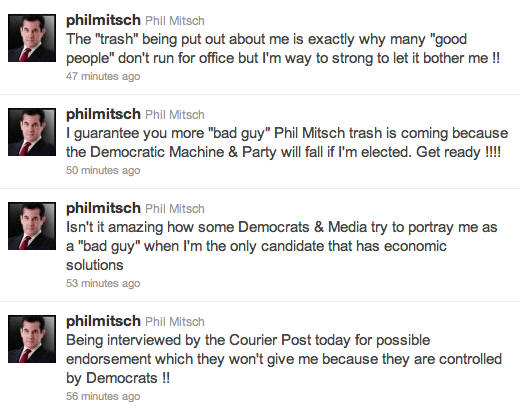 God bless you, Phil Mitsch.
Watch Mitsch's campaign ad below:
(h/t Talking Points Memo)
Have a tip we should know? tips@mediaite.com