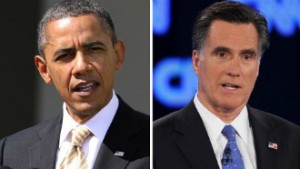 New Quinnipiac University polls released Wednesday show President Obama with an edge over Mitt Romney in three key battleground states: Ohio, Pennsylvania and Florida. The poll notes a comparison to the May results, in which Obama had a lead in former two, but was too close to call in Florida.
The figures for the three states:
Florida: Obama edges Romney 45 – 41 percent;
Ohio: Obama over Romney 47 – 38 percent;
Pennsylvania: Obama tops Romney 45 – 39 percent.
"If he can keep those leads in all three of these key swing states through election day he would be virtually assured of re-election," said Peter A. Brown, assistant director of the Quinnipiac University Polling Institute. But it should be noted (as it is in Quinnipiac's analysis) that it's not even July — so these numbers have a large window of time to fluctuate.
One strength Obama has in all three states is his recent "mini DREAM Act" measure regarding undocumented immigrants, which voters support, saying he's better for the issue than Romney.
The Huffington Post took a look at a mixture of polling from May:
Polls by other organizations in May showed a mix of results: three had Obama slightly ahead, and one gave Romney the advantage. When combined in the HuffPost Pollster Florida chart, the combined trend lines show a continuing Obama edge of just under one percentage point (45.5 percent to 44.6 percent). Unless and until other polls confirm the slightly bigger lead measured by Quinnipiac, Florida should be considered a toss-up.
Indeed, Team Obama will be pleased to see today's numbers, but as is generally the case with polling (especially this early), it's good to take it with a grain of salt.
(H/T HuffPo)
Have a tip we should know? tips@mediaite.com