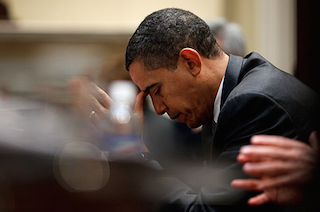 According to Gallup, President Barack Obama has an average 43% job approval rating over the first half of 2014. And while that may seem terrible, when you break down the numbers by religion, a clearer picture of how the country views the president starts to emerge. During those six months, Muslim-Americans gave Obama an impressive 72% approval rating, while Mormons gave him an abysmal 18%.
Below is the full breakdown by religion, showing the Muslims, Jews, atheists and other non-Christian religions tend to like President Obama more than and sect of Christianity does: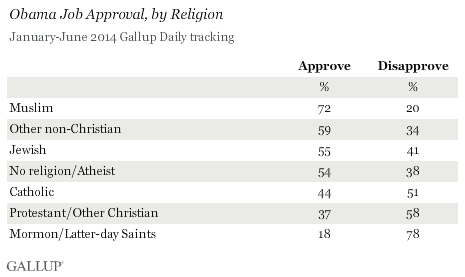 There is some inherent irony here in the fact that Obama himself is a Christian, though he does not attend church quite as often as many Christians would like him to. And, as The Washington Post's Aaron Blake points out, polls have shown that up to 30% of Republicans believe the president is Muslim.
Muslims have also been the group most loyal to Obama over the course of his presidency, dropping just 14 points from a height of 86% in 2009, compared to 20% of more for all other groups. Meanwhile, Mormons started at Obama's current average of 43% back in 2009 and have since dropped 25 points to just 18%.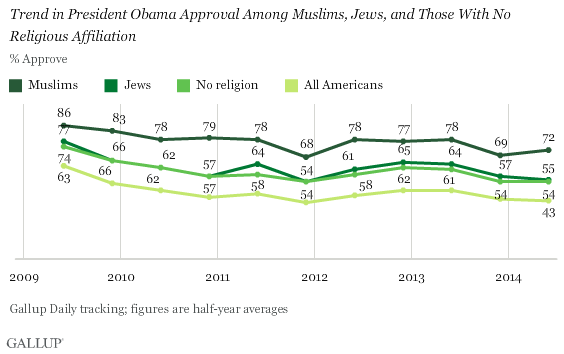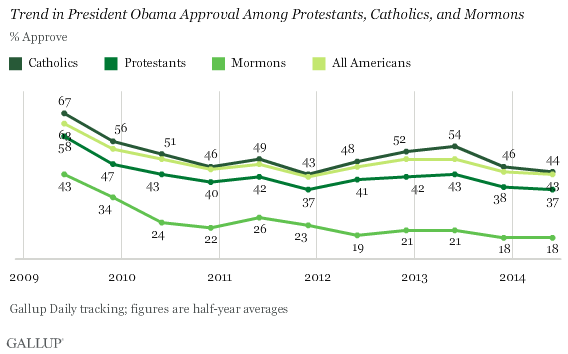 One other important thing to note about this poll is that the sample size for Muslims (552 respondents) is far smaller than the ones for Christian groups, which makes sense, given the relatively small number of Muslim-Americans in the country's total population. But this means that the margin or error for the Muslim group is +/-6, while the margin of error for Catholics and Protestants/Other Christians is only +/-1.
See the full results at gallup.com.
[h/t The Fix]
[Photo via Wikimedia Commons]
— —
>> Follow Matt Wilstein (@TheMattWilstein) on Twitter
Have a tip we should know? [email protected]