New Poll Shows Slide In NRA Favorability, Broad Opposition To Arming Teachers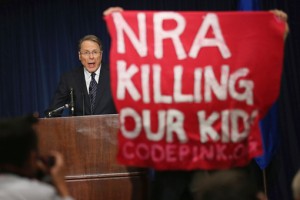 A new poll by the Democratic-leaning Public Policy Polling shows that the National Rifle Association's favorability rating has declined significantly since that organization's executive vice president, Wayne LaPierre, held a press conference in response to the mass shooting at Sandy Hook Elementary School. The poll also found that voters of every affiliation, including gun owners, oppose LaPierre's plan to arm teachers in schools, and most voters even oppose putting an armed policeman in every school. The NRA may want to keep these results in mind as they prep for tomorrow's meeting with Vice President Joe Biden's task force.
From PPP's press release:
The NRA now has a negative favorability rating, with 42% of voters seeing it positively while 45% have an unfavorable view. That represents a 10 point net decline in the NRA's favorability from the week before the press conference when a national poll we did found it at 48/41. Its image has taken a hit with both Democrats (from 29/59 to 22/67) and Republicans (71/19 to 66/18).

The NRA's focus on putting more guns in schools is likely what's driving the decline in the organization's image. Only 41% of voters support the organization's proposal to put armed police officers in schools across the country, with 50% opposed. Democrats (35/57) and independents (38/51) both oppose the push and even among Republicans only a narrow majority (52/39) supports it.

On the broader issue of giving teachers guns, only 27% of voters are supportive with 64% opposed. There's bipartisan opposition to that concept with Republicans (35/50), independents (31/59), and Democrats (19/77) all standing against it. Gun owners (37/52) oppose it as well.

The holidays and the fiscal cliff took a lot of the spotlight off gun control measures, but in general 53% of Americans say they support stricter gun laws with 40% opposed.
The fact that people don't want faculty lounges to become armories isn't all that surprising, but they are also apparently not convinced that even a trained policeman is the answer, which is a good thing, because Republicans in Congress are unlikely to fund that, anyway.
Aside from those obvious takeaways, though, this poll demonstrates that the public was perfectly ready to have the NRA take a constructive role in the aftermath of this tragedy. Six days after the shooting, and the day before Wayne LaPierre's press conference, PPP showed the organization with a positive favorability rating, 48 to 41. People didn't rush to demonize or vilify the NRA, which means they appear to have done it to themselves.
Perhaps that missed opportunity will guide the organization's actions going forward, but if past performance is any indication, it's more likely that Joe Biden will spend tomorrow tuning out a dissection of Natural Born Killers.
Have a tip we should know? tips@mediaite.com