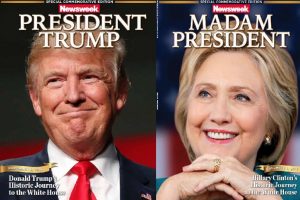 Hillary Clinton did not become president despite Newsweek's predictions, though it would seem that the magazine's 'Madam President' issue has become quite the online collector's item.
Newsweek was so certain that Clinton would win that they took her special edition victory issue to press ahead of the election. When Donald Trump claimed his surprising victory instead, the magazine issued a recall and took back approximately 125,000 of the copies they sent to retailers.
While publisher Topix Media Lab said only 17 issues were sold before the retraction, NBC notes that a search for the magazine on Ebay yields almost 400 different results.
While the authenticity of these offers can't be readily verified and some copies of magazines are for sale at cheaper prices than others, it would appear that the highest bid has reached almost $10,000.
On Wednesday, political editor Matthew Cooper discussed the special edition with Fox's Tucker Carlson, and he admitted that Newsweek didn't actually review their cover piece before it went out:
"We subcontract these commemorative issues to a company. This is pretty common in the magazine business now. The company that does it for us does stuff for Reader's Digest and Scientific American."
Carlson found that decision quite odd, to say the least. The Fox host was curious about what could've happened if Newsweek ended up printing Mein Kampf by accident since they didn't check to see whether anyone went "rogue" with the piece.
"If they had reprinted Mein Kampf that would have been even worse. There's no question," Cooper responded.
Watch above, via Fox.
[Image via Twitter]
— —
>> Follow Ken Meyer (@KenMeyer91) on Twitter
Have a tip we should know? tips@mediaite.com