Newt Gingrich Decides Today is a Good Day To Congratulate the Japanese for Pearl Harbor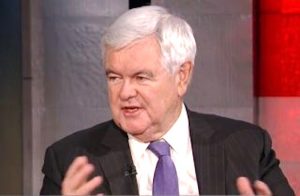 Today represented the 75th anniversary of the Japanese bombing of Pearl Harbor. Thousands gathered in Hawaii to pay tribute to the fallen while honoring the increasingly dwindling number of surviving veterans of not just the attack, but of World War II.
The ceremony today included a moment of silence to mark when the planes first hit the harbor. President Obama, who will visit the site later this month with the Japanese prime minister, released a statement giving thanks to those who "faced down fear itself."
Regarding the deadly attack that pushed the United States into WWII, former Speaker of the House and Trump transition team vice-chairman Newt Gingrich provided the following take on Twitter:
75 years ago the Japanese displayed professional brilliance and technological power launching surprises from Hawaii to the Philippines

— Newt Gingrich (@newtgingrich) December 7, 2016
A tweet like this is just made for snarky reactions, and that is exactly what we got today.
NEWT G: Skip I want to ADDRESS this issue.
[BAYLESS nods]
NEWT G: You KNOW I am sensitive to Pearl Harbor
BAYLESS: Absolutely
Newt G: BUT!

— Bill Humphrey (@BillHumphreyMA) December 7, 2016
Thanks for remembering those who died at Pearl Harbor on 12/7/41 in such a heartfelt way, Newt. https://t.co/mwSGcGIR8w

— Chuck Grothaus (@CGrothaus) December 7, 2016
This is not a parody account. This is actually Newt Gingrich. #PearlHarbor @newtgingrich https://t.co/lcDBsrquZE

— Eric Kleefeld (@EricKleefeld) December 7, 2016
@newtgingrich you surprised your dying wife in the hospital with divorce papers too.

— Gucci (@GucciShade) December 7, 2016
. @newtgingrich pic.twitter.com/RrC58WYzW9

— untermensch (@NetSematary) December 7, 2016
so heres newt gingrich describing the attack that killed thousands of americans as "brilliance." yes this is real. pic.twitter.com/qXq0BF5mv4

— Oliver Willis (@owillis) December 7, 2016
It's weird that Newt Gingrich is spending Dec. 7 musing about how amazing the Japanese attack was on that day in 1945.

— Kyle Feldscher (@Kyle_Feldscher) December 7, 2016
Newt Gingrich Takes Pearl Harbor Day Opportunity To Commend Japan On A Job Well Done!https://t.co/Hz5ucmZV0s pic.twitter.com/QxwegGzqKq

— Riggsy (@RiggsBarstool) December 7, 2016
[image via screengrab]
–
Follow Justin Baragona on Twitter: @justinbaragona
This is an opinion piece. The views expressed in this article are those of just the author.