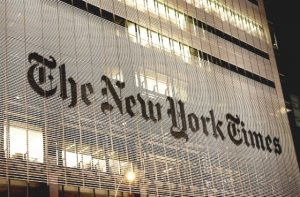 The New York Times actually managed to get an interview with Edgar Welch, the man who was arrested for firing an assault rifle at a pizza place in D.C. at the center of an online conspiracy theory.
The #PizzaGate conspiracy concerns baseless allegations about a child sex ring that involved Hillary Clinton and John Podesta and was operating in part out of the pizzeria's basement.
Well, Welch spoke with Times reporter Adam Goldman and explained he "just wanted to do some good and went about it the wrong way":
Mr. Welch, the father of two daughters, said he woke up Sunday morning and told his family he had some things to do. He left "Smallsbury," a nickname for his hometown, for the 350-mile drive to Washington with the intention of giving the restaurant a "closer look" and then returning home. He wanted to "shine some light on it." As he made his way to Washington, he felt his "heart breaking over the thought of innocent people suffering." Once he got to the pizzeria, there was an abrupt change of plans. Mr. Welch would not say why he took a military-style assault rifle inside the restaurant and fired it.
He did concede that "the intel on this wasn't 100 percent" while insisting that after looking into it online the impression "something nefarious was happening."
Welch rejected the term "fake news" and the Times highlighted this particular insight into his beliefs:
He said he did not believe in conspiracy theories, but then added that the Sept. 11, 2001, attacks needed to be re-examined. He has listened to Alex Jones, whose radio show traffics in conspiracy theories and who once said that Mrs. Clinton "has personally murdered and chopped up" children. "He's a bit eccentric," Mr. Welch said. "He touches on some issues that are viable but goes off the deep end on some things."
He does express regret with "how I handled the situation."
You can read the full interview here.
[image via Osugi/Shutterstock]
— —
Follow Josh Feldman on Twitter: @feldmaniac
Have a tip we should know? tips@mediaite.com
Josh Feldman - Senior Editor