Newt Gingrich: Sarah Palin Made A 'Strategic Blunder' Trivializing Obama As A 'Community Organizer'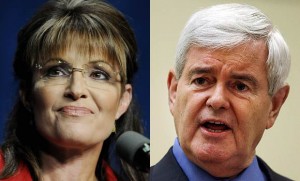 Republican presidential candidate Newt Gingrich seems to be of the opinion if his campaign is going down, he wants to go down in a big spectacular way. With staff members fleeing, a potentially over-active wife, multiple accounts at the jewelry store Tiffany's and some past unfavorable words about Republican Congressman Paul Ryan's attempt to reform Medicare, a new book now reveals that Gingrich also has some critical thoughts on conservative heavyweights Sarah Palin and Rudy Giuliani.
In the new book Subversion Inc.: How Obama's Red Shirts Are Still Terrorizing and Ripping Off American Taxpayers by Matthew Vadum, Newt pontificates that Palin and Rudy made a "strategic blunder" with their speeches at the Republican National convention in 2008 where they joked about President Obama's history of community organizing. Newt responds "it wasn't a funny thing" and in an excerpt from the book, Newt said:
"Obama is the most serious radical threat to traditional America ever to occupy the White House. [It would have been better if Republican leaders] had gotten up and said, here is what [Obama] was teaching, and they had taken the audience through the five principles of [radical organizer Saul] Alinsky."
It sure is a strange strategy to win a Republican presidential primary by constantly criticizing Republicans and suggesting Palin and Rudy were wrong to trivialize Obama, since "Obama is not a trivial person." Yet if Newt keeps going with such strange behavior, it seems like he is the one who risks being viewed as a trivial person.
Have a tip we should know? tips@mediaite.com