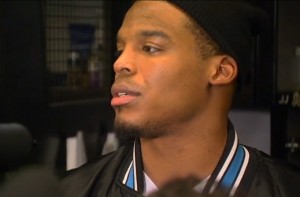 The NFL is drawing criticism from fans, pundits, and even several players over its handling of the multiple vicious hits to the head taken by Carolina Panthers quarterback Cam Newton in Thursday night's season opener.
Perhaps the worst of the repeated shots came during the Panthers' final drive, when Denver Broncos safety Darian Stewart launched himself into Newton head-first, making helmet-to-helmet contact. Newton was face down on the Denver turf, unable to move for several seconds, before slowly getting to his feet and finishing the drive.
That play resulted in a penalty against Denver, but other violent shots did not — much to the dismay of Panthers tight end Greg Olsen.
"We've got to treat Cam like a quarterback," Olsen told CBS Sports. "I know he's the biggest guy on the field, but he's still a quarterback."
Panthers linbacker Thomas Davis told the Charlotte Observer that he too believes Newton is treated differently by the officials because of his size.
"They talk about player safety all the time and they need to protect that player as well," Davis said.
Fans and critics were up in arms over the fact that Newton was allowed to continue playing after all the hits, and not removed from the game as part of the NFL's concussion protocol.
So Cam takes clear helmet-to-helmet hit, down on all fours and you can tell by looking at video no concussion? https://t.co/wdlF7a1VQQ

— Ed Werder (@Edwerderespn) September 9, 2016
If concussion protocol is working properly, there's no way independent official should let Cam stay on field w/o evaluation after that hit.

— Art Stapleton (@art_stapleton) September 9, 2016
No concussion protocol for Cam? Yeah that new system works really well.

— ProFootballTalk (@ProFootballTalk) September 9, 2016
Concussion protocol anybody?!?!?! Cam can't be okay. #DENvsCAR

— Sophia Loren (@Sophia_Loren89) September 9, 2016
I'd bet my life and the lives of children Cam Newton has been playing with a very bad concussion for most of the second half.

— Dave Septemberkowitz (@davelozo) September 9, 2016
Concussion protocol will become a big story tomorrow unless Goodell leaks a different fake breaking news story to a media crony ASAP.

— Bill Simmons (@BillSimmons) September 9, 2016
The NFL:
1. Demands player safety
2. Protects QBs
3. Utterly failed to protect the reigning MVP/face of the league https://t.co/Xr63DQXjo2

— Will Brinson (@WillBrinson) September 9, 2016
Lot of folks failed Cam last night. https://t.co/nABHPIMrle

— Joe Person (@josephperson) September 9, 2016
The NFL released a statement in which they said that independent doctors cleared Newton to play.
There was communication between medical personnel on the Carolina sideline, including the unaffiliated neurotrauma consultant, and the two independent certified athletic trainer spotters in the booth. During stoppage (sic) in play while on-field officials were in the process of administrating penalties, the unaffiliated neurotrauma consultant and team physician requested video from the spotters and reviewed the play. They concluded there were no indications of a concussion that would require further evaluation and the removal of the player from the game.
At the post-game press conference, Newton said he'd been "asked a couple of questions by medical personal." When asked what the questions were, Newton said:
"I don't know. Too much going through my head right now for me to remember what happened."
[image via screengrab]
–
Follow Joe DePaolo (@joe_depaolo) on Twitter
Have a tip we should know? tips@mediaite.com
Joe DePaolo - Senior Editor