NFLer Dwyer Allegedly Head-Butted Wife for Refusing Sex, Threw Shoe at Toddler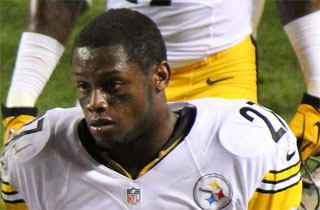 Arizona Cardinals running back Jonathan Dwyer was arrested on Wednesday for domestic violence charges, and according to a recently-released police report, the allegations against him are brutal: not only did he throw a shoe at his 17-month-old son, he repeatedly hit his wife, headbutted her once after she refused to have sex with him, and threatened to kill himself if she got the police involved.
The first incident happened on July 21, according to the statement of probable cause, after Dwyer allegedly attempted to force his wife to have sex with him and she repeatedly refused. "After the victim bit the defendant's lip, he head-butted her in the face, which she later learned had caused a nasal bone fracture as a result of the head butt," the report stated. Neighbors alerted the police to the altercation, but his wife denied that Dwyer had assaulted her. (Police later learned that Dwyer had threatened to kill himself if she got the police involved, texting her a picture of a knife and saying that he "did not want to live anymore.")
The next day, Dwyer and his wife got into a second argument, in which he allegedly punched her in the face, threw a shoe at his son, threw her cellphone off a balcony as she attempted to call 911, and fled. Witnesses to the event helped her pack quickly, and she and her child drove to another state, where she finally felt safe enough to call the police.
The full police report is below:
[h/t ThinkProgress]
[Image via Jeffrey Beale/Wikimedia Commons]
—
>> Follow Tina Nguyen (@Tina_Nguyen) on Twitter
Have a tip we should know? tips@mediaite.com