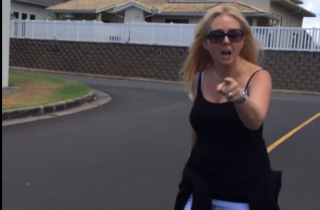 A video of a Hawaii woman going on an expletive-laced tirade after she was cut off on the road last week has garnered almost 1 million views, and according to local media reports the woman has now turned herself in.
The woman, Kimberly Ong, was cut off by another driver who had his camera rolling at the time. Ong, with her young son in the passenger seat, then went on a rampage in which she exited her car and lobbed expletives and insults at the man.
The man who filmed the video, Ryan Arakaki, filed a complaint and admitted he had cut her off, but said she was distracted by her cell phone. Ong was booked for a class C felony on unauthorized entry of a motor vehicle, Hawaii News Now reports. That charge stems from the point in the video where Ong seems to grab the recording device.
Arakaki explained his side of the story to KITV4, ABC's affiliate in Honolulu:
"What made her upset was she wasn't paying attention and I cut in front of her or changed lanes to get in front of her and she probably looked up, probably stepped on the gas and probably almost rear-ended me and she was upset that she had her son in the car and almost got into a car accident."
Ong told KITV4 that she was "really angry." She continued, "and, of course, he was taunting me somewhat. So, that obviously made me even more angry. I'm not the most happy about it. But, I could have probably chose some better words to use. I was upset and it's apparent. I don't totally 100 percent regret it."
So she doesn't regret all the media attention. Have at it, Internet.
Watch the YouTube video in question below (WARNING: NSFW):
[Image via screengrab]
— —
>>Follow Andrew Desiderio (@forza_desiderio) on Twitter
[Note: Mediaite intern Andrew Desiderio is a student at The George Washington University.]
Have a tip we should know? tips@mediaite.com