Nobody Can Believe Sarah Palin Is Mad at Colin Kaepernick For Donating to Meals on Wheels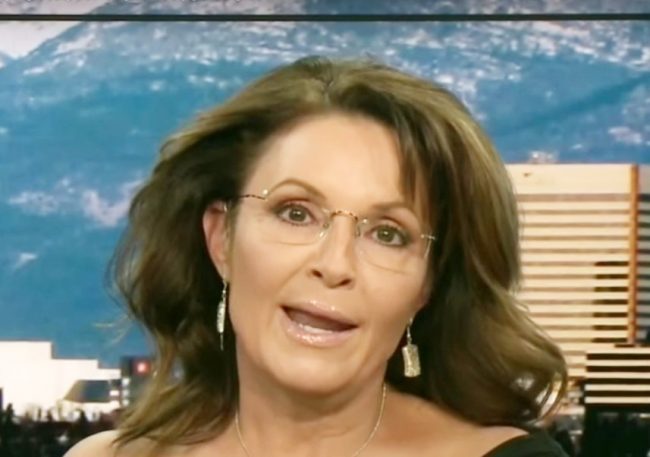 Sarah Palin sparked outrage by criticizing an NFL player for donating $50k to Meals on Wheels, a program benefitting seniors and the disabled, which is facing possible funding cuts under Donald Trump's new budget.
The title of her blog post on the topic is, "SERIOUSLY? Colin Kaepernick Just Pulled ANOTHER Political Stunt…" Obviously, her use of "another" refers to Kaepenick's decision not to stand for the national anthem in protest of police brutality. In a tweet linking to the post, she mused, "No wonder he can't get a job…" in reference to reports that some NFL teams don't want to hire him. The post itself outlines her oppositional argument, which is that it has yet to be confirmed that Meals on Wheels will lose funding.
Still, regardless of what headlines are saying about Meals on Wheels, Kaepernick donated his money to a program that feeds some of the neediest Americans. That's why the post and tweet insisting that there is something nefarious about donating to a program that feeds the disabled and elderly are generating a lot of shock.
imagine being so racist you get mad a black athlete for donating to meals on wheels https://t.co/wIEa4RBK3s

— Adam H. Johnson (@adamjohnsonNYC) March 22, 2017
To recap: Sarah Palin is mad at Colin Kaepernick because he donated to Meals on Wheels. These people all have brain parasites https://t.co/jKx4QQPCV1

— Patrick Monahan (@pattymo) March 22, 2017
@sarahpalinusa let me get this straight. You're angry b/c Kaepernick donated HIS money to charity that provides meals to housebound elderly?

— Jessi_M (@Mess_OfMe) March 22, 2017
Republicans: Charities will do what gov't doesn't!
Kaepernick: (donates to charity)
S. Palin: what a disgusting political stunt

— Dave Lartigue ? (@daveexmachina) March 22, 2017
Sarah Palin takes a brave stand *against* Colin Kaepernick donating $50,000 to meals on wheels. You read that right. https://t.co/ZtkCS0henM

— Secular Talk (@KyleKulinski) March 22, 2017
Colin Kaepernick: "I donated money to Meals on Wheels."
Sarah Palin:"Holy shit look at this asshole" https://t.co/4RH1T7laPO

— Rey "Azure" McSriff (@aguyuno) March 22, 2017
@SarahPalinUSA what's wrong with donating to charity? So you're saying he'd have a job if he was selfish & didn't help those in need?

— Josh Sánchez (@jnsanchez) March 22, 2017
@SarahPalinUSA Honestly, what is your current job?

— The Sports Guy (@TheSportsGuy76) March 22, 2017
@Opposite_Trump @SarahPalinUSA and veterans.

— Katie Rosa (@katierosa_no17) March 22, 2017
wait are you seriously mad that he donated money so that old people can eat @SarahPalinUSA

— Gravitas Free Zone? (@NoraReed) March 22, 2017
@SarahPalinUSA if you tweet about Colin Kaepernick at 12:35 AM you must not have a job either.

— Brandon (@IATEMYBROTHER) March 22, 2017
She concluded her post with, "Kaepernick is pretty bold to make another political move like this one."
There are a variety of ways to be pretty bold, it seems.
[image via screengrab]
——
Have a tip we should know? tips@mediaite.com