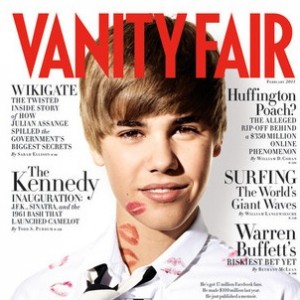 Pop star Justin Bieber might have the ability to drive pre-teens into a shrieking hormonal frenzy, but when it comes to selling magazines, The Biebs (as we refer to him around the office) simply doesn't cut it.
Vanity Fair, taking a break from its tried and true formula of featuring flaxen-haired starlets in pin-up poses on its cover, made Bieber its February cover model. And, in this case at least, it hasn't quite paid off. Women's Wear Daily breaks down the numbers:
The Bieber cover has sold 246,000 copies, according to the Audit Bureau of Circulations' Rapid Report. The ABC Rapid Report data is submitted directly by publishers but has yet to be audited by ABC, so the figure could be slightly adjusted.

But if the number holds true, the Bieber cover will be Vanity Fair's biggest bomb since Will Smith graced a July 1999 cover while atop a black stallion to advertise the movie "Wild, Wild West." The Smith cover sold 202,701 copies at the newsstand, according to ABC data.
The reason? Well, it would appear that the singer's young fans aren't routinely purchasing copies of Vanity Fair… and we're willing to suggest that the men and women interested in reading about Julian Assange or Warren Buffet likely aren't keen on carrying around magazines featuring lipstick kiss-covered teen boys on their covers.
What's more, Bieber's October 2010 Teen Vogue cover performed about 12 percent below the magazine's average for that year, and his April 2010 People cover sold roughly 25 percent below that magazine's average.
Hey. There's always perfume.
h/t WWD
Have a tip we should know? tips@mediaite.com