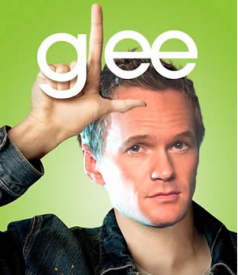 Last night's 'dreamy' episode of Glee starring Neil Patrick Harris was the first episode of the show to air since the Newsweek/Glee gay actors controversy exploded into the headlines last week.
In case you missed it the controversy revolved around a Newsweek columnist arguing that gay males actors can not convincingly play straight. Cue legitimate uproar and Glee creator Ryan Murphy calling for a boycott of the magazine. Also, plenty of discussion over whether he had a point (um, no). In light of all this it was hard to miss a few what have now become rather pointed exchanges on last night's show which might otherwise not have received much attention.
As noted, Neil Patrick Harris, formerly of Doogie Howser, and recently of a lot of much-lauded song and dance routines, guest-starred last night as Bryan Ryan, Mr. Shue's former high school rival turned bureaucratic meanie. If you know who Neil Patrick Harris is in real life you likely also know he's openly gay. I won't give away any plot details from the show for those of you who do the morning-after Hulu view, but early on in the episode Bryan Ryan makes casual mention of his wife. Later, he and Sue Sylvester succumb to some "anger sex" in her upstairs room ("No I have a secret room upstairs…like David Letterman") despite his again mentioning that he's married. Meaning, Glee featured a love scene (sort of) starring two gay actors. Eee gads.
Undoubtedly, this episode was filmed long before the Newsweek article was ever written. But the timing was serendipitous since without that article likely no one would have thought twice about the scene beyond the Letterman line. However, ironically that article and the ensuing furor somehow managed to both give the scene a weirdly weighty significance, and at the same time sort of invert the campaign for gay rights: for a moment anyway being gay and playing straight on TV is a step forward for equality. Congratulations, Newsweek?
Video of the clip below. Below that Artie's dream dance sequence, simply because I thought was the high point of the episode (again…suspension of disbelief).
Related: Kate Moss Loves Glee!
Have a tip we should know? tips@mediaite.com