NSA Suspects Were Prostitutes in Stolen Car; May Have Mistakenly Driven into Facility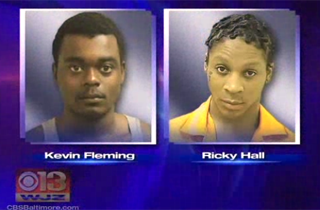 The FBI released the names of the two suspects recently involved in a deadly gate crashing at the National Security Agency's headquarters, and it turns out that their presence at the high-security facility was due to taking a wrong turn in a stolen vehicle.
According to The Baltimore Sun, the two men, Ricky Hall and Kevin Fleming, were found dressed in women's clothing, "but not in an attempt to disguise themselves." Earlier that day, they stole a SUV from a 60-year-old male client who had picked them up in nearby Elkridge, MD., and taken them to a budget motel. Shortly after the man reported his car missing to the police, the men had apparently taken the wrong exit off the highway and found themselves outside the entrance to the NSA — a common mistake many drivers make, say officials, but one that the two men refused to correct:
Most drivers then carefully follow the orders of heavily armed federal officers and turn around without getting into more trouble. In this case, authorities say the men ignored instructions on how to leave, and ended up stuck behind barriers. Police ordered them to stop, and then things escalated quickly.

"The driver failed to obey an NSA Police officer's routine instructions for safely exiting the secure campus," Jonathan Freed, an NSA spokesman, said in a statement. The vehicle failed to stop, then "accelerated toward an NSA Police vehicle blocking the road. NSA Police fired at the vehicle when it refused to stop. The unauthorized vehicle crashed into the NSA Police vehicle."
It later emerged that Hall, the only one killed in the ensuing shooting, had been convicted earlier for robbery and prostitution, and close friends said that he identified as transsexual.
Watch below via CBS Baltimore:

[The Baltimore Sun]
[Image via screenshot/CBS Baltimore]
—
>> Follow Tina Nguyen (@Tina_Nguyen) on Twitter
Have a tip we should know? tips@mediaite.com