Chris Christie is known for being an unfiltered guy, but this time it's gotten him stuck in a burgeoning feud with one of the biggest newspapers in the country. The New York Daily News is defending one of their own from the New Jersey governor, going so far as to place him on the cover right next to the word "fatso."
So what happened? Why would the Daily News be getting so personally nasty with one of the most popular governors in the country?
Like most pointless feuds, it's all about sports.
It all started when Daily News reporter Manish Mehta grilled Jets coach Rex Ryan over his decision to throw quarterback Mark Sanchez on the field to replace Geno Smith, only for Sanchez to end up with a serious shoulder injury. Mehta's line of questioning didn't go over well with Ryan, and the post-game press conference took a turn for the bizarre.
Christie was co-hosting the sports radio show Boomer & Carton on Monday, and when they got around to Ryan's post-game press conference, Christie had some choice words for Mehta.
"Idiot. The guy's a complete idiot," the portly governor said of Mehta. "Self-consumed, underpaid, reporter … the only way he's empowered is because we're spending all this time talking about Manish Mehta this morning … who, by the way, I couldn't pick out of a lineup and no Jets fan gives a damn about Manish Mehta …"

The unprovoked attack continued.

"We shouldn't be giving this dope, you know, the amount of airtime we've given him already," Christie said.
You may notice the key phrases "portly governor" and "unprovoked attack" in there. That's because this is from the New York Daily News, and the paper did not take kindly to Christie insulting one of their own. The same piece also opens by saying of Christie and Coach Ryan: "Like peanut butter and jelly, these fat men stick together."
And so, here is today's big story on the cover of the New York Daily News: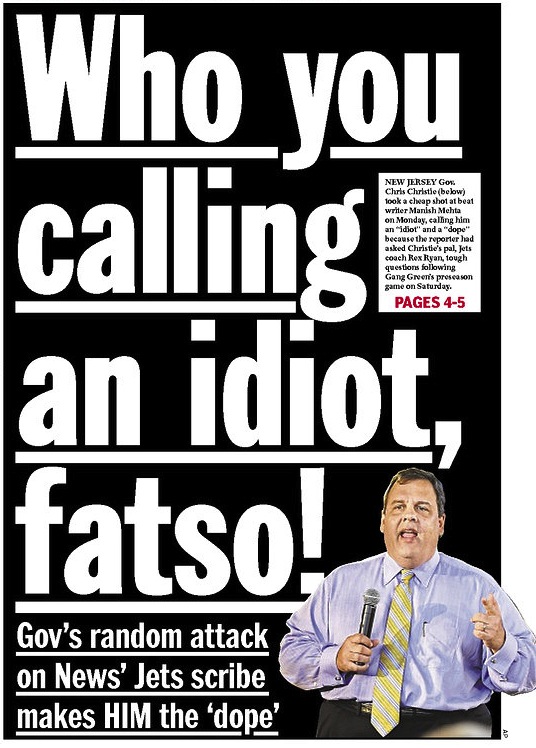 Ah, but lest you think this is all they did, there are two separate columns devoted to slamming Christie, one by Mike Lupica and this pretty devastating piece from Bob Raissman.
This is a governor who already sounds like he'd rather be a sports-talk radio host. It would be all good for him. Unlike his current job, where he's held accountable (okay, maybe semi-accountable) to Jersey residents, sports radio bloviators are never held accountable for what they say — ever.

For Christie, this would be a dream come true. He already knows how to shout down an adversary. Screaming over the first-time-caller, longtime-moron crowd would be second nature to him.
Both pieces also feature this helpful graphic, which takes another noticeable swipe at Christie's weight.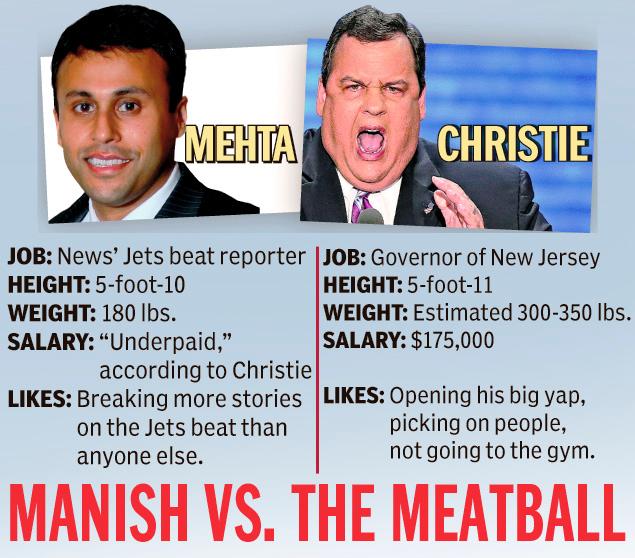 Then again, the Daily News might want to be careful, seeing as how the last person who got caught in a feud with Christie ended up waving the white flag.
h/t CNN.com
[Images via NYDN]
—–
Follow Josh Feldman on Twitter: @feldmaniac
Have a tip we should know? tips@mediaite.com
Josh Feldman - Senior Editor