NY Giants Kicker Josh Brown Admits to 'Physically, Emotionally and Verbally' Abusing His Wife (UPDATE)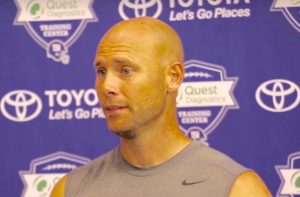 New York Giants kicker Josh Brown admitted to "physically, emotionally, and verbally abusing" his wife in a series of emails, letters, and journal entries from the past few years.
According to the documents first obtained by NJ.com, Brown confessed to the abuse multiple times, writing in a personal journal: "I have physically, mentally, emotionally and verbally been a repulsive man. … I have abused my wife"
Brown wrote the following in a 2014 letter to friends:
I have been a liar for most of my life. I made selfish decisions to use and abuse women starting at the age of 7 to fill this void. I objectified women and never really worried about the pain and hurt I caused them. My ability to connect emotionally to other people was zero. My empathy levels were zero. … Because I never handled these underlying issues I became an abuser and hurt [my wife] physically, emotionally and verbally. I viewed myself as God basically and she was my slave
An ESPN report prior to the season noted that Brown's wife, Molly Brown, told police that the Giants kicker had been physically violent with her on more than 20 occasions throughout the years. The NFL suspended Brown for one game at the start of the 2016 season, citing that Molly Brown did not make herself available to the league during their investigation.
The Giants did not comment on the NJ.com report. Prior to the season, Giants owner John Mara explained the rationale for the club keeping Brown on the team, and for the league to suspend him for only one game — decisions which were both widely criticized.
"(T)here's a tendency to make these cases black and white. They're very rarely black and white. You very rarely have a Ray Rice video. There are allegations made, you try to sort through the facts, and you try to make an informed decision. That's what we did."
At the moment, Brown has not been released by the club.
[image via screengrab]
UPDATE 3:38 p.m. ET — The NFL has issued the following statement:
NFL statement on Josh Brown pic.twitter.com/QYJuLyN9Hs

— Brian McCarthy (@NFLprguy) October 20, 2016

–
Follow Joe DePaolo (@joe_depaolo) on Twitter
Have a tip we should know? tips@mediaite.com
Joe DePaolo - Senior Editor