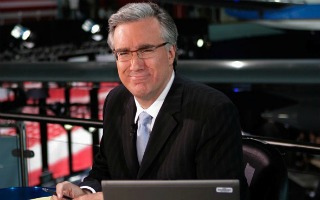 In emails obtained by the New York Post, former Current TV host Keith Olbermann allegedly frustrated his colleagues with his regular complaints about his New York City car service. Olbermann's complaints to Current network executives about his eight car services were first reported in detail by Mediaite's Tommy Christopher.
The Post reports that Olbermann regularly complained of "smelly" drivers and forced Current TV staffs to spend excessive amounts of time vetting car services so that they could meet the host's "exacting standards."
RELATED: Fragile? Keith Olbermann Tells David Letterman He's A $10 Million Chandelier – Updated Full Segment
"The problem is with him . . . the man who professes to be for the 99% doesn't want any of the 99% talking to him or being near him," complained one Current TV account executive in an email.
In another email, an assistant complained that she was having difficulty continually replacing car services and had already maxed out a corporate card:
"I bet you wish I was joking about this . . . but we have yet another car service we need to open an account with," wrote the assistant. "Any chance we can get this ASAP? I keep putting the charges on my corporate card and I'm afraid it will go over the limit soon!"
The assistant was able to settle on a car service "called, appropriately, 'Diva.'" The compromise did not last long, however, as Olbermann was let go from Current shortly after the limo service was engaged.
On Tuesday night, Olbermann appeared on CBS' The Late Show with David Letterman and compared himself to a $10 million chandelier without a house to grace. "You're the chandelier," Letterman clarified somewhat incredulously. "You are always pointing out how big my head is,"' Olbermann responded.
h/t New York Post
Have a tip we should know? tips@mediaite.com