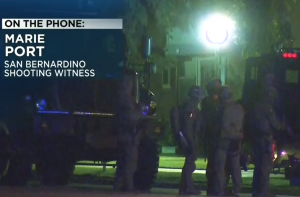 The New York Times, CNN, and Associated Press all fell for an elaborate hoax where a troll pretended to be a witness to the San Bernardino shooting.
A Twitter user using the handle of @JewyMarie tweeting during the attacks claiming to be a witness. A number of reporters then contacted her, and she managed to bluff her way an through an extensive interview with AP, which was then reported by The Times:
He told the woman not to move or say anything. When she asked what he was doing, he replied, "for necessary ethics," according to Parker. The woman said he had a strange emblem on his shirt with the letters GG on it. He didn't harm her, just asked her to stay quiet, Parker said.
The reference to "necessary ethics" and the letters "GG" were a clear attempt to cast blame on the GamerGate movement, a group of self-professed gamers pushing back against unethical gaming journalism and social justice activism in video games.
Marie even managed to be interviewed by CNN's Anderson Cooper, this time as "Marie Port."
Breitbart, who first unveiled the deception, note that this is not the first time the media has been tricked into blaming mass shootings on the GamerGate movement. "Following the murder of two journalists in Virginia last August, online trolls convinced a local news outlet, WSBTV, that the shooter was a supporter of GamerGate. WSBTV later retracted their story," they note.
Watch above, via CNN.
[h/t Breitbart]
[Image via screengrab]
——
>>Follow Alex Griswold (@HashtagGriswold) on Twitter
Have a tip we should know? tips@mediaite.com