NY Times Criticized for Hiring 'Anti-Zionist Conspiracy Theorist' as New Columnist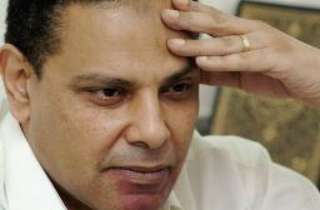 The New York Times has come under fire after announcing the hiring of Egyptian best-selling author Alaa Al-Aswany to its monthly columnist roster. According to a report in The New Republic, Al-Aswany is well-respected as a "liberal" Egyptian voice but Western outlets frequently ignore his "anti-Zionist conspiracy theories."
The Times announced "an important expansion" of its opinions section that included the hiring of Aswany, known worldwide for his role as a democratic activist during the 2011 Arab Spring uprising against then-President Hosni Mubarak.
But the Washington Institute for Near East Policy's Eric Trager warned in a New Republic report that, despite his positive reputation around the world, Aswany is "among Egypt's most prolific conspiracy theorists, and he often uses his very public platform to reinforce some of Egypt's most popular bigotries."
According to Trager, the "Western press often misses this aspect of his public persona," citing an example where Aswany said on Egyptian television that a "massive Zionist organization rules America," and thus "Obama is not able to go against Israel's desires."
Aswany largely tweets in Arabic, Trager notes, and so the Western press has missed other "anti-Zionist" opinions like: "Obama is worried because Israel is worried" or suggestions that America "Zionist" Sen. John McCain called for the release of Muslim Brotherhood leader Khairat al-Shater immediately after the 2013 coup because "The only explanation is that Brotherhood rule is in the interest of Israel."
The belief that Muslim Brotherhood leadership in Egypt benefits Israel is apparently an opinion Aswany has repeated frequently in his social media musings. Trager believes this to be a dangerous position:
[I]n Aswany's twisted worldview, Washington's displeasure with the way in which Morsi was ousted and Western reporting of the rising Brotherhood death toll must have Israel in mind first and foremost. And so being pro-Brotherhood — as Aswany defines it — must be a Zionist position.
Trager took to blasting the Times for giving a position to Aswany's views: "In the United States, this kind of circular, paranoid reasoning is standard fare on fringe blogs. It is not, alternatively, the sort of analysis that lands someone a regular column in one of the nation's leading papers."
He concluded: "Has Aswany considered the possibility that the Times' decision to grant him a monthly column is, itself, a Brotherhood-Zionist plot intended to weaken him?"
[h/t New Republic via The Blaze]
[image via Twitter]
— —
>> Follow Andrew Kirell (@AndrewKirell) on Twitter
Have a tip we should know? tips@mediaite.com