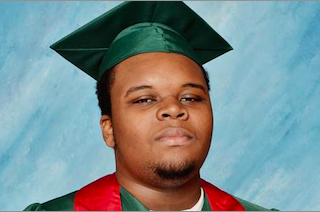 According to the New York Times national editor who helped put together today's piece about Michael Brown's final weeks, there was some missing context in the outrage that has surrounded the line that calls the slain teenager "no angel." As Alison Mitchell noted in a conversation with the Washington Post's Erik Wemple, the words were a call back to the story's lead, which mentioned Brown sighting an angel in storm clouds passing above his head.
Below is the passage that has drawn sharp criticism Monday:
Michael Brown, 18, due to be buried on Monday, was no angel, with public records and interviews with friends and family revealing both problems and promise in his young life. Shortly before his encounter with Officer Wilson, the police say he was caught on a security camera stealing a box of cigars, pushing the clerk of a convenience store into a display case. He lived in a community that had rough patches, and he dabbled in drugs and alcohol. He had taken to rapping in recent months, producing lyrics that were by turns contemplative and vulgar. He got into at least one scuffle with a neighbor.
And here is the lead that appeared at the top of the page:
It was 1 a.m. and Michael Brown Jr. called his father, his voice trembling. He had seen something overpowering. In the thick gray clouds that lingered from a passing storm this past June, he made out an angel. And he saw Satan chasing the angel and the angel running into the face of God. Mr. Brown was a prankster, so his father and stepmother chuckled at first.
"It comes out of the opening scene," Mitchell told Wemple. "I think, actually, we have a nuanced story about the young man and if it had been a white young man in the same exact situation, if that's where our reporting took us, we would have written it in the same way." Echoing the piece's headline, she added, "The story … talks about both problems and promise."
[Photo via NBC News]
— —
>> Follow Matt Wilstein (@TheMattWilstein) on Twitter
Have a tip we should know? tips@mediaite.com