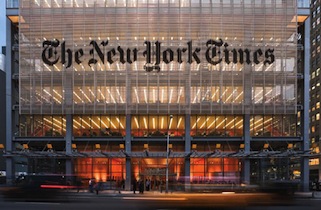 On Friday, a New York Times article about a presumed-captured Israeli soldier carried a reference to information withheld at the request of Israel's military censor, with which all journalists must comply in order to report from the country. After the soldier was declared dead on Sunday, the Times published the information that he was related to Israeli Defense Minister Moshe Ya'alon.
The Times' Jerusalem Bureau Chief Jodi Rudoren addressed the interpolation of the censor Monday, saying it was the first encounter she'd had with the Israeli military censor in her tenure at the post, and that while she wasn't exactly hoping for a repeat, its effect on the Times' reporting was fairly limited.
Rudoren described the clipped, somewhat cryptic manner in which she and the censor communicated, in which the sensitive information was invoked rather than stated. She reiterated that the article was not submitted to the censor for prior review.
She also noted that the Times is fully aware of an end-route around the censor: have the embargoed information published by a colleague outside the country. Rudoren said a non-Israeli based Times writer had worked up a version of the article with the extra information, just in case.
"I would certainly prefer to work somewhere with no censor," she concluded. "Udi [the censor] was nice enough, but I hope he loses my phone number. Any censorship is a huge compromise. In these cases, though, the actual cost to readers' understanding was limited."
[h/t New York Times / HuffPost]
[Image via Wikipedia]
——
>> Follow Evan McMurry (@evanmcmurry) on Twitter
Have a tip we should know? tips@mediaite.com