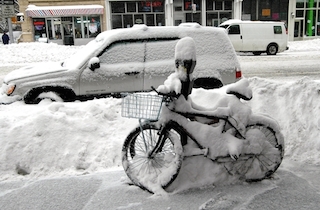 New York City isn't messing with winter storm Juno, and that includes telling the market-drunk car-hailing company Uber to put a lid on its pricing.
Uber announced Monday that its controversial price surging system would be capped at 2.8x, which means a ride at its height will be just under triple the base fare.
Uber pricing on nights like Halloween or New Years, or nights with inclement weather, can reach up to 9x the normal rate, making even a short ride cost hundreds of dollars. The practice has come under scrutiny not just for outlandish totals but for interfering with emergency situations, as in the Sydney hostage standoff.
Uber brokered the deal with New York Attorney General Eric Schneiderman. "Anytime a disaster or state of emergency strikes, dynamic pricing is capped and all Uber proceeds will be donated to the American Red Cross to support relief efforts," the company said Monday.
The announcement came just as Gotham Mayor Bill de Blasio warned against "price gouging" during a state of emergency.
"If you have any evidence — if you happen to take, for example, for-hire vehicles or have any evidence of people taking advantage of this emergency to unfairly and illegally raise the prices of their rides — it is important to call 311 and report it," de Blasio said Monday. "Price gouging in the context of emergency is illegal."
Schneiderman reiterated the warning:
With a State of Emergency now in effect for #BlizzardOf2015, my office will be watching out for #PriceGouging: http://t.co/lZ24TCQ13v #alert

— Eric Schneiderman (@AGSchneiderman) January 26, 2015
Authorities warn the winter storm, which could drop up to three feet of snow Monday night in direct contradiction of market incentives, could be one of the worst in the city's history.
[h/t National Journal / Daily Beast]
[Image via LEE SNIDER PHOTO IMAGES / Shutterstock.com]
——
>> Follow Evan McMurry (@evanmcmurry) on Twitter
Have a tip we should know? tips@mediaite.com