NYT Adds Editors' Note to Op-Ed from Convicted Murderer After Criticism for Omission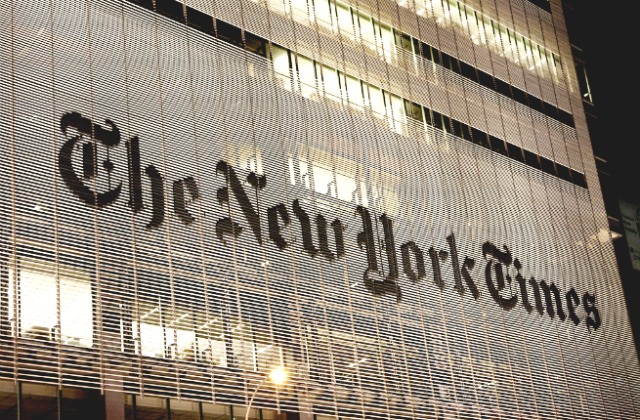 The New York Times has added an editors' note to an op-ed written by a convicted murderer and terrorist after getting some serious online backlash for it.
Yesterday the Times featured an op-ed titled "Why We Are on Hunger Strike in Israel's Prisons," written by Marwan Barghouti. The initial description of him at the end of the op-ed reads, "Marwan Barghouti is a Palestinian leader and parliamentarian."
His op-ed includes this paragraph:
Israel has tried to brand us all as terrorists to legitimize its violations, including mass arbitrary arrests, torture, punitive measures and severe restrictions. As part of Israel's effort to undermine the Palestinian struggle for freedom, an Israeli court sentenced me to five life sentences and 40 years in prison in a political show trial that was denounced by international observers.
But there was an important detail omitted in this op-ed––an omission that the Times received quite a bit of online criticism for:
NYT omits "convicted mass murderer" from Barghouti byline. Excited to read upcoming op-eds by famed doctors Assad and Zawahiri.

— David Keyes (@DavidKeyesPMO) April 17, 2017
.@nytimes forgot to mention that Barghouti was sentenced to five life sentences and responsible for the murder of innocent Israelis.

— Ambassador Danon (@dannydanon) April 17, 2017
Hi @nytimes @nytopinion, you left out part how Marwan Barghouti is also a convicted terrorist & murderer. https://t.co/t8KNSNPDmK pic.twitter.com/2Alwk2Ru9y

— Arsen Ostrovsky (@Ostrov_A) April 17, 2017
Marwan Barghouti is a convicted murderer, the New York Times forgot to tell its readers that.https://t.co/ORuMFDi1cH

— יאיר לפיד (@yairlapid) April 17, 2017
Will there be a @nytimes apology & correction for travesty of Barghouti op-ed? How could life in jail for murder be omitted from his bio?

— AJC (@AJCGlobal) April 17, 2017
It's debatable if Marwan Barghouti has a political future. Pals & Israelis debate it. But NYT was wrong not cite his terrorism conviction.

— Dan Shapiro (@DanielBShapiro) April 17, 2017
The Times has since added the following editors' note (flagged on Twitter earlier tonight):
This article explained the writer's prison sentence but neglected to provide sufficient context by stating the offenses of which he was convicted. They were five counts of murder and membership in a terrorist organization. Mr. Barghouti declined to offer a defense at his trial and refused to recognize the Israeli court's jurisdiction and legitimacy.
[image via Osugi / Shutterstock.com]
— —
Follow Josh Feldman on Twitter: @feldmaniac
Have a tip we should know? tips@mediaite.com
Josh Feldman - Senior Editor