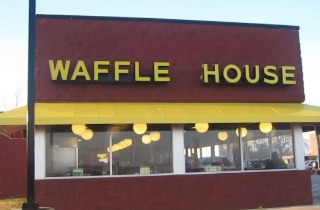 While there's a lot of anti-gun sentiments being thrown around the country in wake of the Oregon shooting, the organization that has most recently incurred the Oath Keepers' anger on the issue is…Waffle House.
WLEX-TV reported that a National Guardsman was asked to leave his gun outside after ordering his food. After being told about their no-gun policy, the guardsman reportedly walked out afterwards, which led to a blog on the Oath Keepers website that proposed "marketplace retaliation" in the form of a boycott.
"Waffle House would actually be a great candidate to single out and make an example of," David Codrea wrote. "If they dig their heels in and go belly-up, who cares? And if they end up doing the right thing, it will be an in-your-face victory that'll cause a very public Demanding MILM [Mother I'd Like to Meet] hysterical meltdown."
Codrea continued on to say that he would be personally boycotting the chain until they issue a public endorsement of the right to bear arms, and called for others to take similar actions towards anti-gun establishments.
The Nicholasville Waffle House has issued a response defending their position:
For many years we have had a 'No Firearms' police [sic] in place in our restaurants…We continue to believe this is the best policy for the safety of our customers and associates.
You can watch the WLEX report in the video above.
[h/t Libertarian Republic]
[Image via wikimedia commons]
— —
>> Follow Ken Meyer (@KenMeyer91) on Twitter
Have a tip we should know? tips@mediaite.com